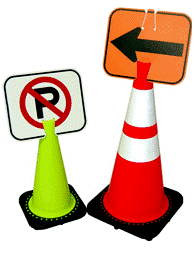 Traffic Control Cone Signs
Showing 1–9 of 29 results
We offer a large online selection of clip-on cone signs compatible with virtually all types of traffic cones, barrels and delineators. These signs are ideal for emergency and temporary situations, attaching to traffic cones and other markers. Due to their portability, durability and ease of use, these signs are perfect for construction sites, traffic control, event markers and more. Improve safety, increase visibility and keep traffic moving with our selection of traffic control cone signs. 
The Benefits of Traffic Control Cone Signs
Traffic cone signs create safer work environments, protecting job sites, workers and passerby with durable, easy-to-read messages and symbols. Cone signs are easy to attach, turning your traffic cones into useful directional markers, hazard signs, parking indicators and much more. These clip-on signs transform road cones, barrels and delineators from simple alerts into highly visible signs.
The benefits of traffic control cone signs include:
More options: Get specific with a massive online inventory of cone signs in a range of different options. Depending on the design, our traffic cone signs are available in white, orange, red and blue. From creating a parking lot for a special event to blocking a road during an emergency, get the signs you need from D.E. Gemmill Inc. 
Better durability: Get more use from signs made for hard use. We manufacture all our clip-on safety signs using durable ABS plastic. Traffic control cone signs made from ABS plastic are resistant to damage from wear, extreme weather and sunlight. These signs are easy to clean, store and have a long lifespan.
Higher visibility: Send messages anyone can read, understand and respond to with reflective traffic cone signs. These markers are visible day or night with bright markings on one side. Safety traffic cone signs are further enhanced with an engineer-grade reflective coating, keeping work sites on the roads safe from passing drivers. 
Easier installation: Prep your job site and tear equipment down faster using clip-on traffic cone signs. Our traffic cone sign design allows for easy installation and removal. Clip one to your road cone, barrel or delineator, face it in the right direction and you are all set. Remove and store signs fast for repeated use. 
Improved safety: Create an organized flow of traffic anywhere you can place a road cone. Use traffic cone signs as standalone alerts or place them in sequence for directing traffic. Sending clear instructions with cone signs reduces the chance for collision, improving worksite safety for workers, motorists and pedestrians.
Reduced cost: Cone signs alert drivers to upcoming hazards, preventing collisions. Traffic cone signs are an affordable solution for guiding drivers away from your equipment, which saves on the cost of replacing cones, barrels and tools. These small signs go a long way to reducing liability costs and protecting workers and equipment. 
Top Uses for Traffic Control Cone Signs
Alert, guide, stop or direct traffic the way you want with a large variety of safety traffic cone signs. Use traffic cone signs to improve safety and efficiency at construction sites, warehouses, dockyards and anywhere you want to control the flow of traffic. These signs are perfect for protecting workers and improving efficiency across many industries.
Top uses for traffic control cone signs include:
Alert Drivers to New Traffic Patterns
Whether performing work or responding to an emergency, traffic cones are excellent for alerting drivers to new traffic patterns. With a large variety to choose from, find the right sign regardless of the situation, and give drivers advanced warning.
Signify Dangerous Conditions Ahead
Fallen trees, flooding, vehicle accidents and animals create hazards for drivers and pedestrians. Our lightweight signs are easy to transport and fit any road cone, sign or barrel to signify dangerous conditions ahead. Direct traffic along the safest route using signs made for easy installation and high visibility with minimal light. 
Ensure Optimum Worksite Efficiency
Our line of traffic cone signs offers much more than creating and maintaining a safe work environment. Use our selection of temporary traffic cone signs to direct worker traffic and ensure optimum worksite efficiency. Cone signs offer immense value for guiding equipment drivers, incoming deliveries, foot traffic and more. 
Provide Safety for Roadside Workers
Construction laborers, highway maintenance employees, utility providers and other roadside workers face dangers from passing motorists. Road cones alert drivers to worker presence. Use safety cone signs for closing lanes, reducing vehicle speeds, directing traffic and much more to provide a safer work environment. 
Meet Requirements for Traffic Management
If you plan on doing any type of roadside work, ensure you meet all the local and OSHA traffic management safety requirements with the proper temporary signage. For help finding the right sign, call the experts who know safety. At D.E. Gemmill Inc., we have decades of experience working as road and traffic contractors and as retailers of quality safety equipment. 
Trust D.E. Gemmill Inc. for All Your Traffic Safety Needs
We offer a massive selection of safety traffic control cone signs, available online and ready to ship anywhere in the country.  For cone signs for your project, trust the experts. At D.E. Gemmill Inc., traffic control is in our DNA. We got our start performing pavement marking services and, since 1986, have grown to become a national supplier for safety equipment and contracting services. Browse our full collection of traffic control products to keep your site moving. 
Buy Safety Traffic Control Cone Signs Online
At D.E. Gemmill Inc., we have over three decades of experience matching our customers with the occupational safety equipment they need. Having trouble finding the right sign for sending your message? We offer additional traffic cone signs and legends upon request, and custom traffic cone signs are also available.
To buy traffic control cone signs online, or for help finding the right clip-on signs for your project, call the experts at (717) 747-1391 or send us a message today.