Thermoplastic Pavement Markings in the Mid-Atlantic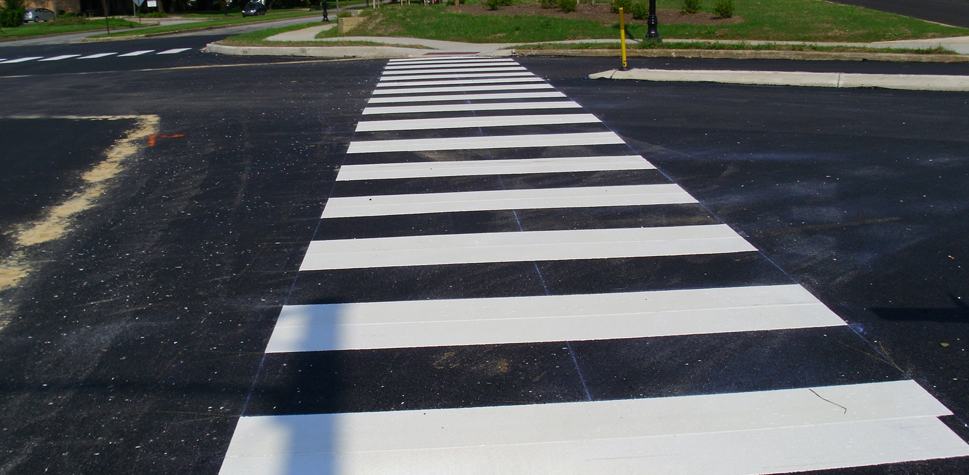 Thermoplastic line marking is an alternative to conventional paint that offers superior visibility, durability and long-term performance. Though most commonly associated with long line highway and roadway painting, an increasing number of smaller and specialized applications now use thermoplastic paint.
D.E. Gemmill, Inc. works with several types of thermoplastic to provide complete long line and short line painting solutions. We are a partner to demanding clients and employ a range of application methods to quickly turn around projects of any size.
 Why Thermoplastic?
Thermoplastic offers several advantages over conventional paint. It's up to seven times longer-lasting, which means lower maintenance costs and fewer interruptions for restriping — significant benefits for busy highways, roadways and commercial traffic lanes.
Thermoplastic paint contains microscopic glass beads that give it unique reflective properties. As a result, visibility is greatly improved. This is important for general safety purposes and also to meet the strict retroreflectivity guidelines introduced by many state highway agencies.
Though it costs more initially, thermoplastic line marking is an investment that will deliver benefits over the long term.
Products and Potential Applications
D.E. Gemmill, Inc. works primarily with various thermoplastic products: from multiple manufacturers. Typically, we can apply multiple mil thicknesses using the screed or extruded shoe method. Multiple standard colors are available to meet regulatory and ADA signage requirements.
Typical thermoplastic applications include:
Highway and roadway lines
Parking lot lines
Bike paths and markings
Crosswalks and pedestrian walking trails
Schools zone warnings and yield markings
We can also supply preformed thermoplastic products such as rumble strips, manhole protection covers, train and rail system platform edges, curb ramps and more. In preformed products, thermoplastic paints deliver superior oil and gas resistance as well as slip resistance and long-term durability. They are suitable for use in harsh and high-traffic environments, where they can be counted on for years of reliable performance depending on the application.
Our Service Area
D.E. Gemmill, Inc. has a more than 30-year history of long and short line painting, parking lot marking and related services. As we've grown, both our capabilities and our service area have expanded accordingly.
Today, we are equipped, insured and qualified to perform thermoplastic pavement marking for clients in Pennsylvania, Maryland, Delaware and Virginia.
From our headquarters in Red Lion, PA, we are a proud partner to state and municipal highway agencies, commercial facilities and private properties with specialized striping and line marking needs. We can quickly turn around any project and we provide full-service support throughout the design and planning stages.
Contact D.E. Gemmill, Inc. to Request a Quote Today
Our expertise and our experience make us an ideal partner for any thermoplastic line painting project. We will assess your needs to determine the best product and application method. If thermoplastic isn't a cost-effective choice, we can recommend alternatives that are more appropriate for your budget.
Get started by requesting a consultation today. Call or email our office directly for assistance from one of our knowledgeable representatives.