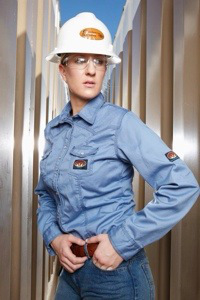 Women's Flame Resistant Clothing
Women's Flame-Resistant Clothing
Flame-resistant clothing must fit properly to deliver maximum safety on the job. For women in the skilled trades, finding appropriate FR clothing can be a challenge. To better serve this growing segment of the construction industry, D.E. Gemmill Inc. opened She's In Construction — a dedicated web store featuring safety clothing for women.
On this page, you'll find a variety of flame-resistant clothing in women's sizes. Our products meet the appropriate NFPA, ASTM, and other standards while offering fit and comfort designed for women's bodies. Explore our inventory or contact our office directly to learn more about our products.
Available Women's FR Clothing
We work with several manufacturers we trust, including Rasco FR, to offer women's arc flash clothing in various sizes and styles. Our products include:
FR denim jeans: Rasco FR jeans feature 100% pre-washed 11.5 oz. denim construction with a relaxed boot cut fit for maximum flexibility on the job. They are certified to meet NFPA 70E, NFPA 2112, and ASTM F1506 standards through independent testing by UL.
FR shirts: We also sell women's work shirts made from 7.1 or 7.5 oz. FR cotton twill. Strong enough for demanding oil and gas jobs, but light enough to remain breathable and comfortable over a long shift, these shirts also meet NFPA 70E, NFPA 2112, and ASTM F156 standards.
If there's something specific you're looking for that isn't listed online, don't worry. Call the D.E. Gemmill Inc. office directly for help sourcing an appropriate substitute. We can also help you put together a complete work uniform consisting of women's FR clothing as well as high-vis vests or jackets, head and hearing protection, safety eyewear, and more.
Why Shop at D.E. Gemmill Inc.?
D.E. Gemmill Inc. a longstanding leader in safety equipment for construction and related professionals. We recognize the diversity of the skilled trades and strive to offer products for everyone. This includes women's flame-resistant clothing. If you're looking for FR shirts, jeans, or other clothing, we can provide:
Selection: Our She's In Construction division offers everything you need to stay safe, in one place. Unlike big-box retailers, we're not limited in our selection — safety is our main priority, and we have an extensive catalog of products in stock and ready to ship to you.
Quality: We know industrial safety better than anyone and, as a result, we know what to look for when sourcing new products. In our online store, you'll only find products by manufacturers we trust, ensuring a level of quality that delivers the most value for your money.
Expertise: Got a question about anything in our store? We're here to help. Friendly, knowledgeable advice is just a phone call or email away when you shop D.E. Gemmill Inc.
Ready to get started? Place your order online or, better yet, visit our York, PA, retail location in person. We also offer mobile sales within 150 miles of our headquarters through our SOS — Safety-On-Site — store. Keep browsing our website or contact our office for more information.