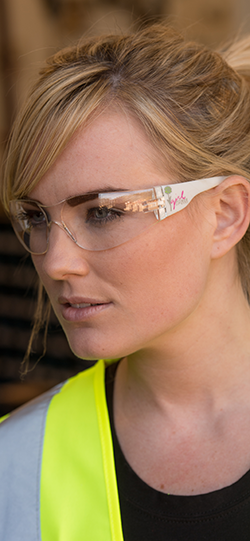 Women's Safety Glasses
Showing 1–9 of 10 results
Protecting vision in the workplace is a top priority, especially in construction zones with a myriad of hazards. Yet, your employees also want a sense of style and individuality. 
D.E. Gemmill knows that you want to invest in the best safety for the women on your team. That's why we bring you a variety of colorful and durable eyewear solutions that can help protect the vision of your workers. 
Shop our selection above to find the unique design and functionality that will protect your team indoors on the factory floor or outside on the project site.
Our Selection of Safety Glasses 
D.E. Gemmill has a wide variety of practical safety glasses with features that allow your team to express themselves. Women with small face types now have a variety of color schemes and sizes to choose from without having to worry about danger from the wrong fit.  
We offer safety glasses from Starline, Ella and Metro. This eyewear has a snug and comfortable fit for your employees, with many options weighing less than an ounce. We also have anti-fog and UVA protection options to help your team stay safe in any condition. 
Our glasses come in four tint colors, including clear, grey, pink and blue. We provide you with an even larger selection of frames, including pink camo, purple, pacific blue and more. The Starlite line of glasses also supplies a 10% smaller option to fit even the smallest facial profiles. 
You can trust D.E. Gemmill's wide inventory to find the women's safety glasses you need to get the job done in style. 
Standards for Construction Eyewear
D.E. Gemmill is on a mission to help you reduce workplace accidents with eyewear that follows the guidelines of the Occupational Safety and Health Administration (OSHA). We believe that each pair can make a difference. 
Our glasses and goggles designed for women meet several safety criteria, including: 
ANSI Z87.1: The American National Standards Institute (ANSI) has different types of ratings depending on your industry and encompasses protection for workplace hazards like optical radiation, impacts, dust, and more. 
CSA Z94.3-15: The Canadian Standards Association (CSA) has various requirements for eyewear. Some of these standards include protection from radiation, chemical splashes, electrical hazards, debris and more. 
MIL PRF-31013: This U.S. Military Specification certifies products for the toughest jobs with 7 times the impact protection of the ANSI Z87.1 standard. 
We provide these safety products so you can have peace of mind that our top-quality eyewear can protect your team's vision. 
Explore Our Functionality and Design Choices Now 
Want to learn more about eyewear PPE for female workers? D.E. Gemmill has a wide variety of choices that you can browse above to find your perfect fit.
Reach out to our team of service experts today at 866-755-9794, or contact us online to find the ideal blend of style and safety now.