Speed Bumps in Central PA, Baltimore & Beyond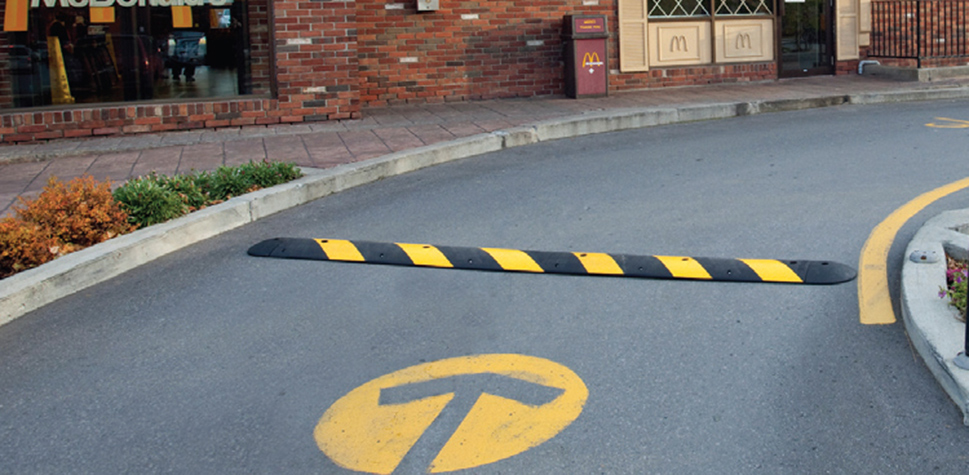 Speed bumps are designed to improve pedestrian safety. Speed bumps reinforce the use of stop signs in parking lots, and reduce the risks of accidents on private residential streets, in the front of stores or schools, as well as in parking lots. Speed bumps are an abrupt raised area in the pavement surface and are extremely effective at controlling speeds and slowing drivers down to under 5 mph. Typically speed bumps are 3-6 inches in height have a travel length of 6 inches to upwards of 6 feet.  
At D.E. Gemmill we specialize in removable recycled rubber and portable plastic speed bumps. The recycled rubber speed bumps feature recessed bolt holes making them easy to install and remove. They are made from 100% post-consumer tires which is the toughest rubber available.  There is no internal hardware which is an added safety benefit and the reflective yellow stripes and cats eye reflectors ensures visibility at night.
Our portable speed bump is designed for temporary placement on roads, construction sites, events, parking lots, warehouse floors to slow vehicle speed. They are made of durable, impact and UV resistant polypropylene and will not fade or crack. It can withstand 20,000 pounds and has black rubber on the bottom to prevent sliding when being run over. Our portable speed bump rolls up for convenient storage, includes a durable nylon zipper bag, and features a handle on each end for easy maneuverability.
We do not do any asphalt speed bumps at this time.