Pavement Markings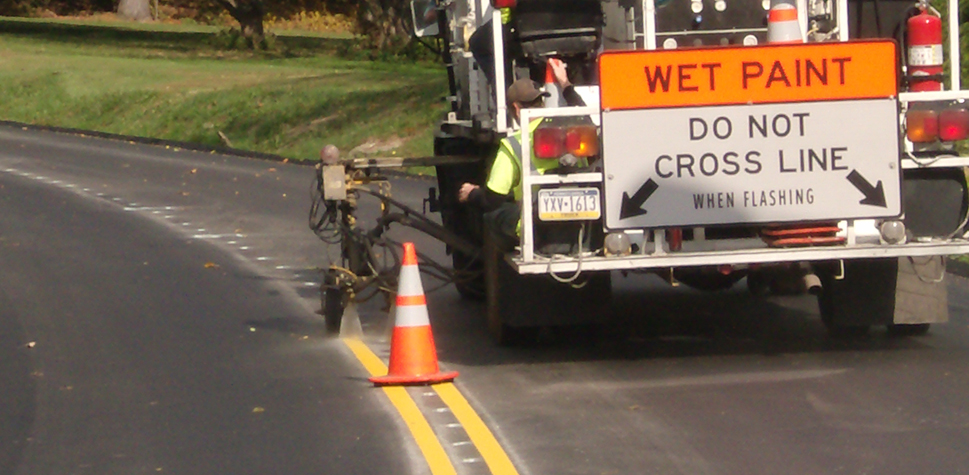 Pavement markings on highways, roads and parking lots are critical for directing the flow of vehicle and pedestrian traffic. They should be easy to see and clearly laid out at all times. At D.E. Gemmill Inc., we understand the importance of visible and durable pavement markings — as well as the role pavement marking maintenance plays in keeping them looking their best.
From our York, PA headquarters, we provide highway pavement markings, road line painting, garage and parking lot markings, as well as an extensive selection of other services throughout the Mid-Atlantic region. Working with quality materials and relying on the expertise of our team, we can help public works departments, construction crews, private businesses and other clients develop safer spaces for pedestrian and vehicle traffic.
 Our Services
Pavement marking is a broad field. To meet the needs of a range of different clients, D.E. Gemmill Inc. offers the following services:
Parking lot marking: Parking lot pavement marking has been the core of our business since 1986. We provide dedicated service for clients of all sizes, from small retail lots to large industrial/commercial properties. We can assist with design, re-striping, stenciling and signage, ADA compliance and other issues.
Highway pavement marking: Our specialized fleet of trucks can provide long line painting on highways for a variety of purposes. Count on us for new roadway striping, shadow line painting, temporary striping and more. We also offer short line painting for roadway markings such as crosswalks, stop bars and bike lanes.
Thermoplastic marking: Thermoplastic is a durable alternative to conventional road paint. Durable and longer-lasting, Thermoplastic is ideal for intersections and anywhere where heavy traffic conditions exist such as highways and high-volume parking lots. D.E. Gemmill Inc. is fully equipped to provide reflective thermoplastic markings using a variety of application methods. Specialty markings and applications such as Decomark and Topmark are also available.
Epoxy marking: Epoxy is another alternative to standard road paint, and one that is ideal for any application where extended service life is desirable. We have been providing epoxy road marking since 2016 — just contact our office directly to learn whether or not it's the right choice for your project.
Road marking tape: Highway tape has a variety of uses, including temporary markings, blackout or coverup of conflicting markings and can be used as permanent pavement markings.
Hydroblasting and line removal: We provide hyrdroblasting and line removal for clients of all sizes – no project is too big or too small. Hydroblasting is an environmentally safe way to perform pavement marking removal, surface preparation, airport runway rubber removal, and a variety of other surface cleaning solutions. 
Seal coating and pavement maintenance: Regular seal coating prevents damage to asphalt caused by traffic and exposure to the elements. Crack sealing is a core component of pavement maintenance, which will help prevent damage and assist with extending the life of your asphalt.
Interior warehouse and floor marking: Our extensive knowledge of pavement marking isn't limited to outdoor applications. We provide a number of options for interior warehouse and floor marking applications that can be used in various settings such as industrial facilities, food storage and processing plants and commercial buildings. D.E. Gemmill utilizes environmentally safe equipment when installing warehouse and interior floor markings.
Airport runway marking and maintenance: Airports have highly specific pavement marking and maintenance needs that require specialized expertise to meet. D.E. Gemmill currently focuses on small- and medium-size airports in the Pennsylvania, Maryland, and mid-Atlantic area and continues to bring longstanding industry experience to all your projects.
Browse our website to learn more about the full range of pavement marking and other services D.E. Gemmill Inc. provides for clients throughout Pennsylvania, Maryland, Delaware and Northern Virginia. To request a quote for an upcoming project, or to learn more about how we can help you, please contact our head office directly by phone at 717-755-9794 or via our online form.
We are a pavement marking company offering a variety of maintenance and marking services. In addition to providing fast and efficient parking lot maintenance and highway markings, we're among the most recognized seal coating companies in PA.