Pavement Marking Company in Central PA & Surrounding Areas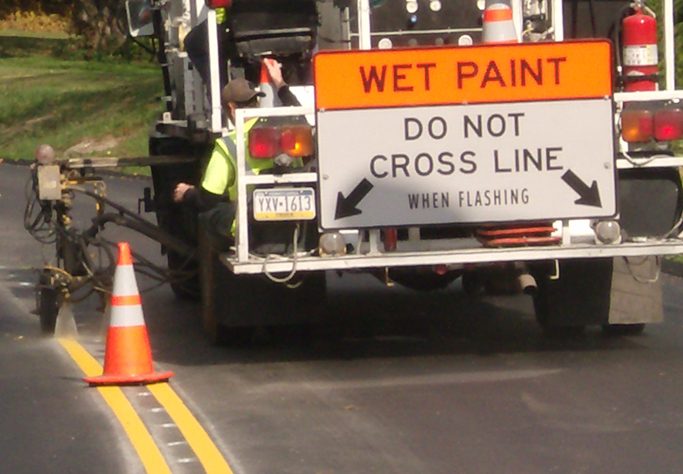 Pavement markings on highways, roads and parking lots are critical for directing the flow of vehicle and pedestrian traffic. They should be easy to see and clearly laid out at all times. At D.E. Gemmill Inc., we understand the importance of visible and durable pavement markings — as well as the role pavement marking maintenance plays in keeping them looking their best.
From our York, PA headquarters, we provide highway pavement markings, road line painting, garage and parking lot markings, as well as an extensive selection of other services throughout the Mid-Atlantic region. Working with quality materials and relying on the expertise of our team, we can help public works departments, construction crews, private businesses and other clients develop safer spaces for pedestrian and vehicle traffic.
 Our Services
Pavement marking is a broad field. To meet the needs of a range of different clients, D.E. Gemmill Inc. offers the following pavement marking services:
Browse our website to learn more about the full range of pavement marking and other services D.E. Gemmill Inc. provides for clients throughout Pennsylvania, Maryland, Delaware and Northern Virginia. To request a quote for an upcoming project, or to learn more about how we can help you, please contact our head office directly by phone at 717-755-9794 or via our online form.
We are a pavement marking company offering a variety of maintenance and marking services. In addition to providing fast and efficient parking lot maintenance and highway markings, we're among the most recognized seal coating companies in PA.