Sealcoating & Pavement Maintenance in Pennsylvania & Beyond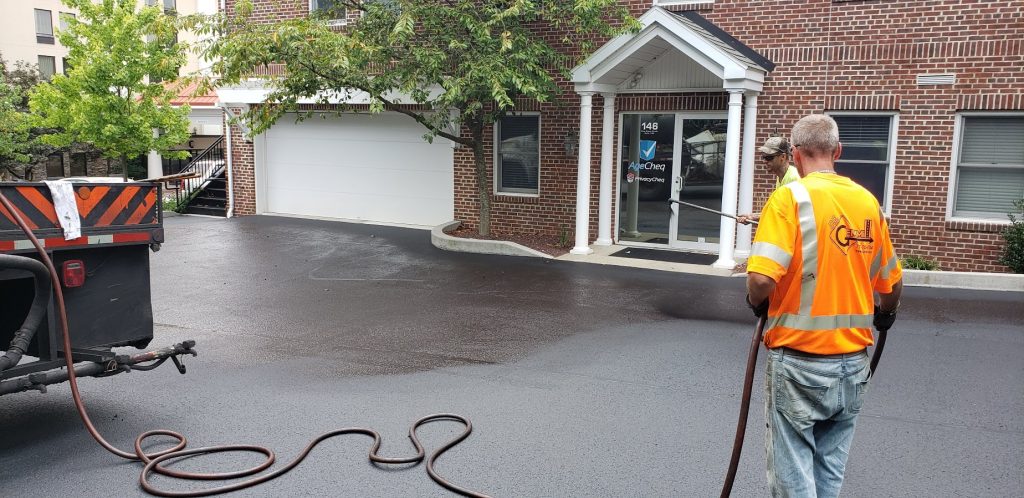 Sealcoating and other highway maintenance is an important investment in the future of your infrastructure. Get the most for your money by partnering with D.E. Gemmill, Inc. — the Mid-Atlantic region's leading expert in asphalt service. We understand better than anyone the environmental stresses that roads in our area face and are uniquely qualified to perform the important maintenance that keeps them in great condition for longer.
Our team will work with you to put together an action plan for protecting any paved surface. Whether it's a one-time intervention or ongoing service, we offer dedicated solutions for a range of potential applications.
Asphalt Sealcoating
Sealcoating is a surface treatment that has been proven to extend the life of paved surfaces. It is particularly effective in areas that face harsh winters, rain, snow or coastal salt spray. It also improves the look of the treated surface, making it a great option for parking lots or private driveways where keeping up a fresh, clean appearance is important.
Sealcoating prevents paved surfaces from oxidizing over time. A sealcoat is also oil- and water-resistant, which limits damage from heavy use and makes spills easier to clean up.
Asphalt sealcoating must be reapplied on a regular basis to be effective. D.E. Gemmill, Inc. offers comprehensive, multi-year maintenance plans to ensure your driveway or roadway remains in top condition for the long-term. If your business is looking for an asphalt sealing company in York, PA and for sealcoating in York PA, contact D.E. Gemmill. 
Crack Sealing
Whereas sealcoating is a preventative measure, crack sealing helps limit existing damage. We use a special hot sealing process to fill up surface holes and prevent them from expanding. This is especially important in the Mid-Atlantic region, where drastically shifting seasonal temperatures can widen cracks and allow water to seep in below the asphalt surface.
Crack sealing can be a stopgap measure or it can be the first step in a more comprehensive maintenance program. As a top asphalt sealing company in Pennsylvania, we'll work with you to determine the combination of interventions necessary to protect the long-term health of a roadway, parking area or any other surface.
 Other Services
Other pavement maintenance services we offer include concrete slab preparation, hydroblasting line removal and more. For more information about the many ways we can help, call or email our headquarters directly.
Serving the Entire Mid-Atlantic Region
D.E. Gemmill, Inc. is based in Red Lion, PA and offers sealcoating services for customers throughout Pennsylvania, Virginia, Maryland and Delaware. We've been active in the area for more than 30 years and understand what it takes to keep pavement looking new and working great for longer. We have an extensive fleet of equipment as well as a highly trained team capable of taking on projects both big and small.
Getting Started
Whatever the job entails, we'll work to quickly to complete sealcoating, asphalt paving or other pavement maintenance services with a minimal amount of disruption. We offer comprehensive project management support and can take care of permitting, traffic control and other related issues in-house to ensure our work goes smoothly.
The first step is to contact our office and request a consultation. We'll send out a knowledgeable team member who can assess your job site and recommend the right combination of products and services and provide a detailed estimate. Get in touch with one of the top asphalt sealing companies in Pennsylvania to get started today.