Hydroblasting & Line Removal in Central PA, Baltimore & Beyond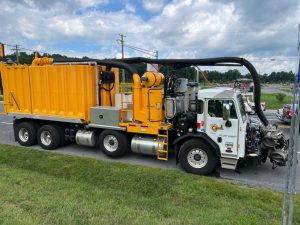 Highway and roadway line removal requires a combination of high-quality equipment and skilled expertise. D.E. Gemmill, Inc. is unparalleled in our ability to provide turnkey service for some of today's most demanding customers. Call or email our office directly to request a quote or a consultation from one of our experts.
We have been a leading provider of line painting services since 1986. As a corollary to that, we offer hydroblasting line removal to quickly get rid of old markings. Trust the full-service team that can oversee your project from start to finish. Keep reading to learn more about our complete range of hydroblasting services.
What Is Hydroblasting?
Hydroblasting is just what the name suggests. It uses highly pressurized water to remove old paint and line markings from an asphalt surface. Compared to other methods of paint removal, hydroblasting is:
Faster: Hydroblasting quickly strips old paint as well as excess bitumen, built-up oils, and other contaminants. It also re-texturizes a road surface, preparing it for new paint application in a single step. This makes it one of the fastest ways to complete a highway marking project.
More cost-effective: Because it's so quick, hydroblasting is also economical. Less labor is required to complete a job and traffic interruptions are kept to a minimum. Hydroblasting also requires no special chemical treatments, which means your materials costs are lower, too.
More environmentally friendly: Hydroblasting is the most environmentally friendly way to remove line markings from a road or other paved surface. There are no solvents or fumes involved. Our system collects wastewater and filters it before disposal to ensure no contaminants leach into the soil.
It's easy to see why hydroblasting has emerged as the preferred choice for line removal among both government agencies and private organizations. Its main drawback is that few contractors are equipped to perform it correctly. That's where D.E. Gemmill, Inc. comes in. We've invested in the highest-quality hydroblasting water tank system available and are fully capable of taking on line removal projects of any size.
The Benefits of Using Our Industrial Pressure Washing and Waterblasting Services
Proper road maintenance leads to safer environments for travelers. Anyone who will be driving on your roadways or pulling into your driveways deserves the best safety you can offer them. The many benefits of using our hydroblasting pavement cleaning services in PA include:
Doing things the proper way: Our 30 years of experience ensure we know the right methods and most efficient manner to perform hydroblasting
Efficiency: We have hydroblasting equipment capable of spraying 40,000 pounds per square inch, getting the job done quickly
Versatility: Hydroblasting can remove any type of pavement markings, including short and long lines
Uses of Waterblasting Industrial Pressure Washing Services
From hydroblasting existing parking garage line markings to hydroblasting for removal of unwanted materials on asphalt surfaces, this service has numerous potential applications. It's an important first step in maintenance and repairs to roadways, parking lots, and other paved surfaces. Use it to get rid of existing paint, epoxy or thermoplastic markings as well as oil and grease stains, graffiti and other cosmetic issues.
We can adjust our hydroblasting techniques according to the requirements of any job, using various spray widths to complete the project with fewer tasks. We can also accommodate special considerations such as delicate environmental conditions, heavy vehicle or pedestrian traffic, and more.
1. Airport Runway Cleaning and Rubber Removal
Debris accumulates on runways, including rubber from plane tires that rubs off over time and after many landings. Hydroblasting can remove anything that collects on the runway, with the combination of high water pressure with high volume and temperature clearing away whatever sits there. This technique is fast and effective, and planes can resume takeoffs and landings quickly after we complete a cleaning.
2. Asphalt Surface Cleaning
Your airport has taxiways where the planes go to the gate, as well as ramps, aprons and aircraft stands. All of them require cleaning due to frequent use. Our hydroblasting technique can remove dust and even organic material that gathers on the asphalt. The all-natural hydroblasting method is friendly to the environment too. It can make your airport look cleaner and show you care about upkeep — something pilots appreciate.
3. Pavement Marking Cleaning
Have your pavement markers become faded and difficult to read? Clean off the existing ones with hydroblasting. The high-pressure water will remove the paint from the pavement in minutes. You can then re-mark the area once it has dried. Having proper markings can help your airport function more effectively.
Why Choose D.E. Gemmill As Your Hydroblasting  Company In Pennsylvania
To take care of this important task of hydroblasting & line removal in central PA, Baltimore & beyond, you need to trust someone who knows what they're doing. That's why so many people look to D.E. Gemmill as their waterblasting pavement cleaning contractors in PA.
We have a proven track record of providing industry-best service in this field. Our experienced and knowledgeable staff can provide suggestions for solutions you may not have considered. We stay up to date on the latest techniques and innovations in the industry, which we adopt to offer to our customers.
Our ability to provide both consulting services and products makes us a unique one-stop shop for anyone who has pavement maintenance needs. We have been educating, assisting and selling to clients for more than three decades, and we have kept up with the evolution in the industry. We love finding new ways to do things for our customers that offer them greater efficiency and safety.
Contact D. E. Gemmill for Professional Hydroblasting Services in PA, MD, DE & VA
D.E. Gemmill, Inc. offers hydroblasting services to clients in Pennsylvania, Maryland, Virginia and Delaware. Our roots are local, and over the years we've expanded our service area without compromising our commitment to quality work and excellent value.
Make us your trusted partner for any upcoming hydroblasting or highway line removal project. Get in touch today to learn how we can make any paved surface look brand-new again.
If you're looking for a pavement marking company ready to take on the toughest jobs, you've come to the right place. D.E. Gemmill Inc. utilizes the most advanced high-pressure water jets for amazing results in pavement marking removal and water blasting applications.
Let us help you remove aging highway lines or driveway markers to make a safer space for your workplace and commuters. Contact us today to get your free estimate.
Contact us for contracting services, to purchase from our store or to schedule the Safety on Site truck to come to your job site today. We are always happy to answer your questions.