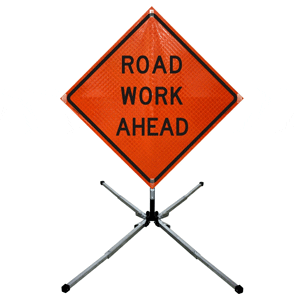 Traffic Control Signs for Sale
When you're doing roadwork, you need to be able to communicate with drivers so they know what to expect when they pass your job site. At D.E. Gemmill, we offer a selection of traffic control signs for your convenience. Our signs offer efficiency and ease of use when it comes to every type of road application.
If you're looking for new traffic control signs to use during your next project, you can find a quick and cost-effective solution in our inventory. Our signs will provide the level of control you need to maximize safety and productivity at work.
Buy Traffic Control Signs From D.E. Gemmill
D.E. Gemmill supports heavy-duty projects with a selection of reflective roll-up traffic control signs. These signs are ideal for all types of applications, from road maintenance to utility work. If your project is taking place on or near a roadway, you need traffic control signs so drivers and passersby know what's going on. This is an important part of maintaining a smooth flow of operations and keeping everyone safe at job sites.
Our roll-up signs are designed for lightness and easy storage, which makes them the ideal options for tough working conditions. We offer both the Marathon reflective vinyl roll-up sign and the Super Bright reflective roll-up sign, each of which comes with a wide range of messaging options to choose from. Whether you want to mark a closed road, direct drivers toward a detour or simply alert people of upcoming roadwork, we can provide a sign that relays the desired message.
Our signs are resistant to wear and tear, and we make sure they're designed to deliver optimal visibility. You can order any quantity that fits your project needs.
Why Do You Need Our Temporary Road Signs?
Traffic control signs are essential for communicating with drivers on the road so you can complete your project in a safe, timely manner. Our temporary road signs offer a variety of benefits, including:
Reflectivity: Our traffic control signs for sale are reflective, which makes them visible to drivers during all times of the day. They can even hold up in harsh weather conditions. 
Versatility: You can set up one of our traffic control signs in almost any location without worrying about wear and tear. Our wide range of message options also gives you more flexibility to communicate with drivers.
Easy management and storage: Our signs also condense for easy storage so that when you have to travel or move between job sites, you can do so with ease.
Check Out Our Inventory Today
The next time you need traffic signs for a project, consider reaching out to D.E. Gemmill for support. We've been serving members of the roadwork industry for more than three decades, and we're committed to meeting our customers' needs every time. Browse through our inventory today to learn more about the types of safety gear we have available. If you're looking for additional information, feel free to call or reach out online today.