Interior Warehouse & Floor Markings in PA & MD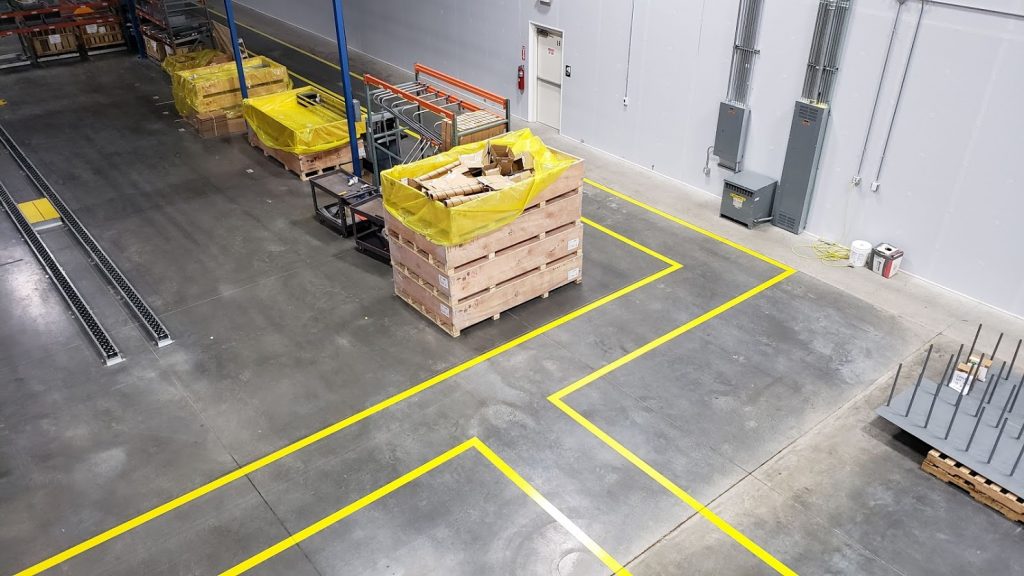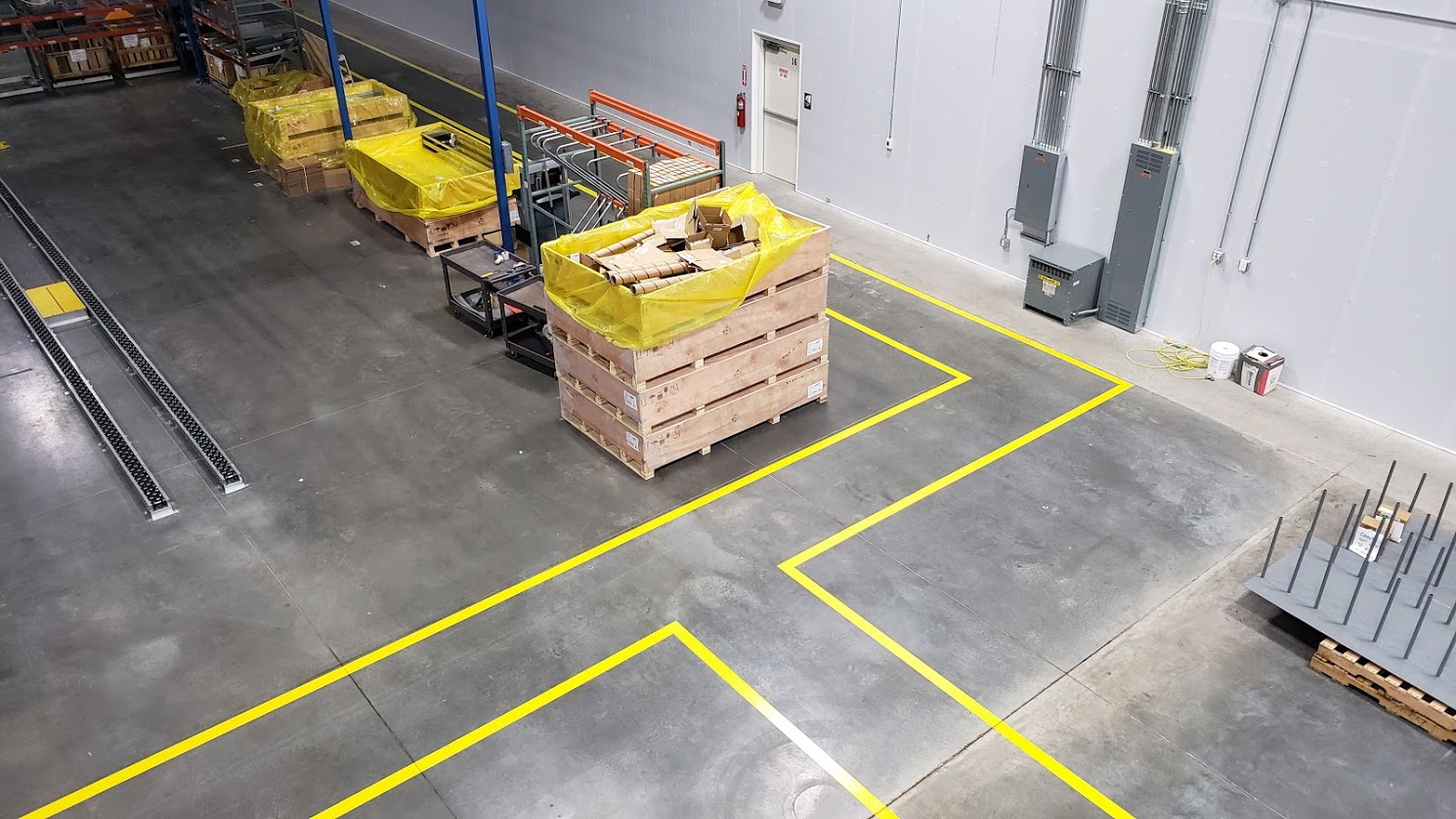 At D.E. Gemmill we take pride in the quality of our work. With over 30 years of knowledge and experience, we provide a number of options in interior warehouse and floor marking applications that can be used in various settings such as industrial facilities, food storage and processing plants, and commercial buildings.
Warehouse and Floor Markings Can Serve Many Purposes
Pedestrian Walkways- Provides a safe passage and specific areas for pedestrian traffic in an industrial setting.
Product Storage Areas- Define specific areas for products, skids, and inventory
Product Staging Areas- Provides specific areas for items to be shipped prior to loading and specific areas for received items prior to storage.
Exit Aisles- Safety areas which should be kept open or cleared- electric panels, battery charging stations, exit doors etc.
Floor Stenciling – Floor stencils easily and economically display permanent safety messages that can help you maintain a safe warehouse or other working environments.  Using safety stencils can clearly and effectively indicate dangerous situations or remind employees of important workplace guidelines and keep your visitors out of harm's way.
Safety equipment- Floor markings can be painted on the floor area in designating fire extinguisher locations, AED Locations, eye washing stations, etc.    
Number locations- for aisle ways or product location
Foot prints- various colors are available. Foot prints are painted on the floor to direct personnel or visitors to various locations within the facility.
Stop bars and stencils- traffic intersections within the facility where fork trucks and mobile equipment that needs to stop and look for cross traffic.
Forklift and egress path markings
Line painting for warehouse dock doors
Various Products Used for Floor Markings
Tapes- Tapes are used for temporary and permanent markings and are ideal for light traffic facilities. Some tapes are specialized and have capabilities to be used in cold storage facilities.
Aisle Marking Paints- Aisle marking paints have longer durability depending upon your traffic conditions and usually is a quick drying material providing you with less down time. We highly recommend us applying a clear sealer over the painted lines, to add longer durability life to the markings in facilities with heavy fork truck traffic.
Epoxy Paints- Epoxy paints are ideal for heavy traffic facilities, are very durable, and can last up to 5-7 years before recoating may be required depending on your traffic conditions. An epoxy clear coat is recommended to add durability and make cleaning easier however it does require proper surface application. Curing time is longer for epoxy than less durable products, however, it will save you down time due to the longevity of the product.
With our complete knowledge of various marking products we can recommend the best application to meet your operational needs. We have an established network of suppliers for industry standards as well as unique applications. There is nothing more important than keeping your business's operations going. We understand that and will work with you to coordinate our application process into phases so that the disruptions to your business operations are minimized.
D.E. Gemmill Inc. recently became one of the first companies in Central Pennsylvania to purchase a Graco LineLazer Electric Battery line striper. This unit is the industry's first electric line striper, allowing safe performance of interior striping. The unit operates quietly and fume free, creating a safe environment for workers while performing indoor striping.