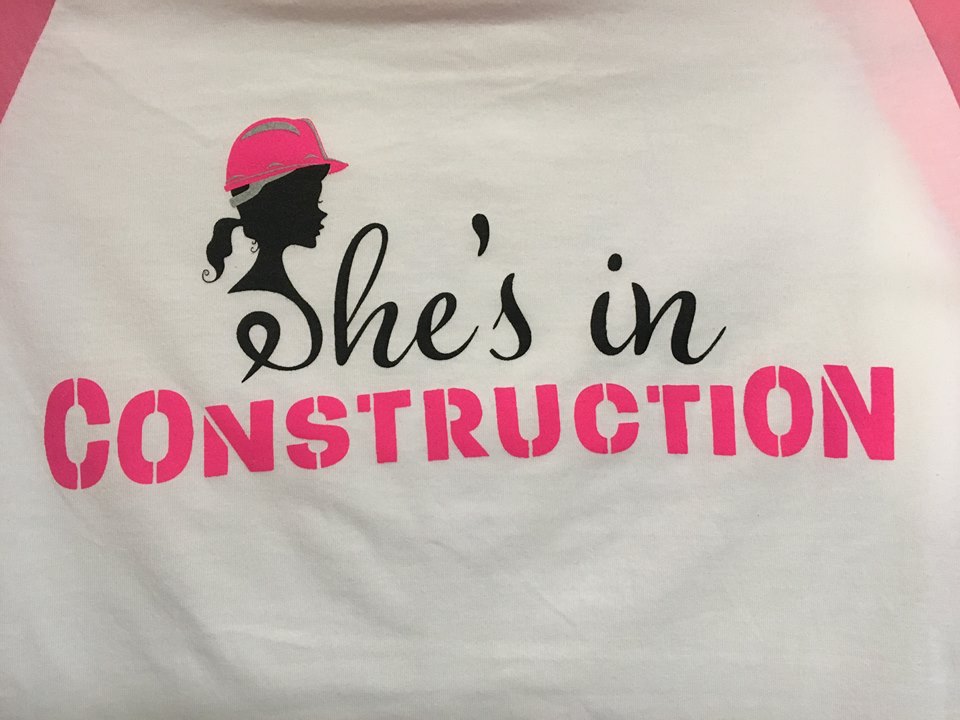 She's in Construction Gear
While construction has traditionally been a male-dominated profession, an increasing number of women are choosing to work in this challenging industry. At D.E. Gemmill Inc., we recognize that women have different apparel needs than their male counterparts. That's why we offer a wide variety of women's construction gear and equipment specifically designed to combine tailored protection, comfort and functionality. 
Our Line of Women's Construction Work Clothes
Our inventory of She's in Construction clothing includes:
Baseball T-Shirt: This attractive baseball-style shirt provides a lightweight, yet durable women's construction equipment option when working in warm environments. You can also wear it underneath a heavy coat, vest or parka on outdoor jobs in colder weather. The pink sleeves and collar add a feminine touch and enhance visibility and safety. Available sizes include XS, S, M, L, XL and 2X. 
Pink Camo T-Shirt: This She's in Construction shirt features a distinctive camouflage pattern and pink and white coloring. Choose from XS, S, M, L, XL and 2X sizes.
Why Buy Women's Construction Gear From D.E. Gemmill Inc.?
At D.E. Gemmill, we've been providing high-quality safety equipment and apparel for industrial use since 1986. Over our more than three decades in business, we've served the needs of companies in industries such as construction, warehousing, manufacturing and maintenance by offering products that deliver outstanding protection, comfort and safety, along with exceptional value. 
We make serving our customers our top priority. Our knowledgeable staff is always willing to help, and we're open to accepting feedback to help us improve wherever we can. If you have a question or concern or want to deliver advice that can help us meet your needs more efficiently, we're willing to listen. 
We also incorporate continuous improvement into our operating philosophy. Our team stays ahead of the curve by embracing new technologies that allow us to meet our customers' evolving needs. By focusing on providing innovative solutions, we can help you fulfill your business objectives now and in the future. 
Browse Our Selection of Women's Construction Work Clothes
Check out our current inventory of women's construction gear and equipment and place your order online today. If you prefer to shop in person, feel free to visit our retail store and showroom in York, Pennsylvania. You can also request help by phone by calling our corporate office at 717-755-9794 or our store at 717-755-1391. To reach us via email, fill out and send in our convenient contact form.