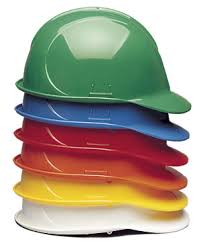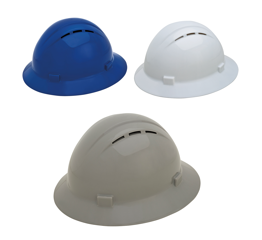 Hard hats are essential equipment for workers since they protect the command central of the body, the human brain. We have a large selection of five-star protective headgear from trusted brands like Ridgeline and MSA that you can choose from for your workers' safety.
We understand that protecting your employees from falling objects and electrical conductor exposure is important. That's why D.E. Gemmill wants to partner with you to safeguard your workers and keep your job site compliant with safety-approved construction hard hats. 
What Types of Hard Hat Solutions Do We Provide?
At D.E. Gemmill, we know that every job site has unique aspects you need to account for. That's why we offer various hard hats to meet your needs. When you choose the correct personal protective equipment (PPE), you will protect your workers from falling material or equipment, objects stored on shelves, overhead exposed conductors and more. 
 There are two general types of hard hats within the safety community:
Type I protects the worker with a full brim around the hat for blows from above.
Type II has a short brim to protect from the front, back, side and top. 
We offer both varieties, so you can choose the design that works best for your team members.
You can select from plenty of designs, as well as four-point, six-point and eight-point ratchet suspensions. Each number represents an increasing level of shock absorption for more protection.
No matter your industry or working conditions, D.E. Gemmill can provide a high-quality option for you from our construction hard hat collection.
Hard Hat Safety Standards
D.E. Gemmill knows that your team's safety is a top priority. That's why we offer PPE approved by the Occupational Safety and Health Administration (OSHA) to help protect your workers.
Everyone wants to know that the equipment they use is reliable and trustworthy. D.E. Gemmill gives your team that peace of mind with state-of-the-art headgear designed to meet the latest safety standards, including the American National Standard for Industrial Head Protection (ANSI) Z89.1. The ANSI standard ensures protection against fire, extreme temperatures, a forceful hit to the head and more. 
Safety headgear can also protect employees who might bump into exposed electrical conductors. There are three classifications for hard hats concerning electricity protection: 
Class E: This class protects against up to 20,000 volts of electricity. 
Class G: These hats offers protection for an electrical voltage of up to 2,200.
Class C: This headgear offers no protection from electricity because it focuses on head impacts. 
By offering headgear that meets the highest quality standards, we achieve our mission to help your employees work in a safer tomorrow. 
Shop Our Selection Now
Ready to find a protective headwear solution? D.E. Gemmill has you covered with professional customer service experts to help you select what your job site needs.
Call now at (866) 755-9794, fill out a contact form or browse above to find your perfect hard hat today.