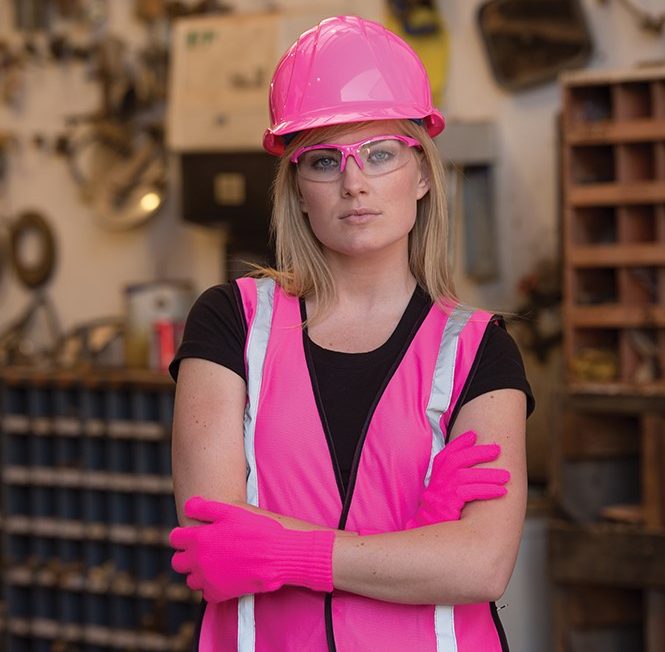 Before modern construction tools, human hands were the most important tools for building. Now, 21st-century power tools protect hands from performing certain work while also posing a new danger for injury.Keep the women on your job site safe with gloves specially designed to fit female hands with narrower palms and appropriate length and width. 
The U.S. Bureau of Labor Statistics explains that 43% of injuries were hand-related out of 286,810 total workplace incidents. The Safety and Health Council of North Carolina also explains that the most prevalent hand injuries include lacerations, crushes, detachments, punctures and fractures. 
Beyond safety, we also offer style for your team with bright pink hues and more subtle black gloves with pink accents so workers can choose their look. D.E. Gemmill, Inc. provides top-quality work gloves, so your company can protect workers and build a reputation for offering employees the finest resources.  
Our Options for Women's Work Gloves
D.E. Gemmill, Inc. offers high-quality work gloves from the Girl Power at Work™ brand. The founders created this brand in 2010 to manufacture well-fitting personal protective equipment (PPE) for women on the construction crew. They also want to balance functionality and safety with high visibility colors and designs that appeal to women in skilled labor. 
The Girl Power Mechanics Gloves at D.E. Gemmill, Inc. come in pink with black accents and black with pink accents. These gloves have synthetic leather fingertips and palm padding, spandex and foam backing, terrycloth thumbs, neoprene and Lycra cuff binding, breathable air vents and more. 
Choose D.E. Gemmill, Inc. for the highest-quality brands made for women's needs and tastes in work gloves. 
Why Choose D.E. Gemmill, Inc.?
D.E. Gemmill, Inc. is serious about safety as a longtime leader in the industry. We hand select every product in our She's in Construction division of products. The D.E. Gemmill, Inc. inventory also has a larger variety than big-box retailers with personal, one-on-one customer service. We check the quality of every manufacturer and their products to make sure your women's work gloves are the best in safety. 
Shop Your Women's Work Glove Solution Today
Ready to match your project with a safe and effective women's work glove? Browse the collection from D.E. Gemmill, Inc. above or speak with our professionals for insight into picking your gloves. 
Got questions? We're always just an email or phone call away with expert advice. To speak with a helpful representative, call (866) 755-9794 or you can fill out a contact form request with a specific question.