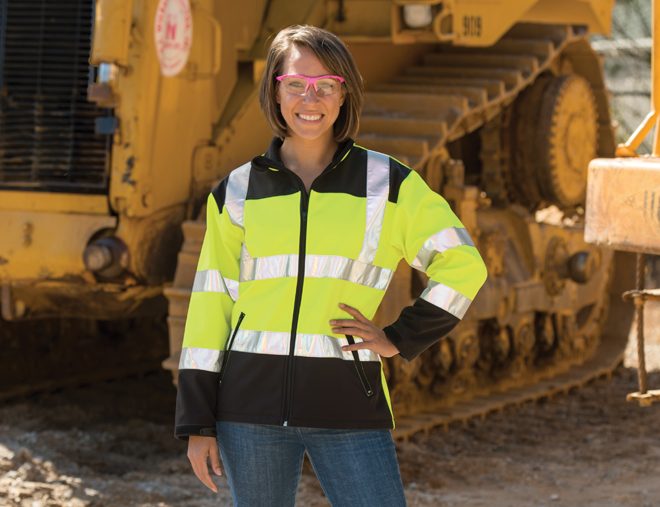 Women's Safety Jackets
Showing the single result
D.E. Gemmill, Inc. accommodates women in the workforce with safety-certified hi-vis jackets that provide proper support for the female body. These jackets protect women with visibility at nighttime and fit properly with feminine figures in small and large sizes to prevent the dangers of oversized or ill-fitting jackets. 
D.E. Gemmill, Inc. has the solutions you need to protect your team on the job site and keep crew members efficient and comfortable. 
Our Selection of Safety Jackets for Women
D.E. Gemmill, Inc. offers a wide selection of vests for women with sizes small to 2X to ensure that there is always a proper fit. We also consider how the jacket will suit women and a variety of conditions even beyond the typical nighttime setting for hi-vis jackets. 
Our Women's Fitted Soft Shell Jacket is an outstanding example. The material is water and wind-resistant with breathability for long days on the job. The jacket also has multiple layers for comfort in cold conditions with a fleece interior. Convenient zipper pockets come in handy for carrying supplies on the job site and the high collar provides extra protection against the cold. A contoured waistband also provides a fit for the jacket suited to female bodies. 
Wherever your workers need maximum visibility, D.E. Gemmill, Inc. has a solution to fit your project.
Safety Standards for Women's High-Visibility Jackets
 D.E. Gemmill, Inc. understands that certified safety jackets can help to prevent worker accidents on roadways. This belief is why we select the finest jackets to give your employees maximum visibility.
Our women's jackets meet the standard of ANSI Class 2. Class 2 is a regulation that exists to protect workers who stand near public traffic that is moving at speeds under 50 mph, whether it is day or night. These jackets have a high-visibility design with 775 square inches of light-catching material and 201 square inches of reflective tape to help your team stand out to drivers in hazardous, low-visibility environments. 
D.E. Gemmill, Inc. has a wide collection of women's safety jackets to bring security and comfort to the workforce.
Choose Your Women's Safety Jacket Solution From D.E. Gemmill, Inc.
Are you looking to learn more about safety jacket solutions for women? Trust the professionals at D.E. Gemmill, Inc. to help you select a safety certified jacket for female workers. Reach out to us on the phone at (866) 755-9794, browse our selection above or fill out a contact form today.