Traffic Control Rentals in Central PA, Baltimore & Beyond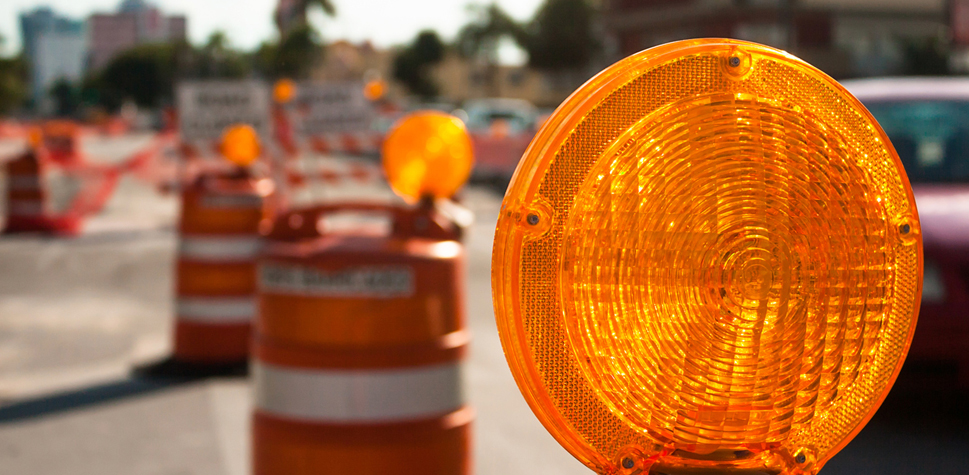 D.E. Gemmill Inc offers a wide variety of services relating to traffic control devices and products. We have established ourselves as a leader in the traffic control industry. We can provide daily rentals, long-term traffic control setups and detours. We offer a wide array of reflective sheeting which will meet either Pennsylvania, Maryland or Delaware specifications for traffic control. We also provide specialty signage and devices for public, private, industrial and commercial functions as well as work areas.
Cones
 We provide long and short-term cone rental, as well as traffic cone sales. We have cones which are molded as one unit, thereby eliminating the possibility of base failure or disconnect during your operation. All cones for traffic control are the 10-pound type to meet DOT specifications. The cones have 2 reflective collars to comply with nighttime visibility usage.
We also offer other size cones for various types of applications.
Folding Barricades
We offer type II folding barricades with and without flashing lights for sidewalk closures, street closures, industrial and commercial functions, shopping mall activities and anything you may have a need to close or block down for a specific event or problem.
The barricades have 2 panels on each side and they have various grades of reflective sheeting depending on the uses and or state where they are to be used. Many of the barricades are weighted.
Construction Drums
We offer various types of drums for uses in various states. Many of our drums are now diamond grade to meet the highest reflectivity standards of the states where we offer service. Though currently Pennsylvania only requires a Hi-Intensity grade sheeting, Maryland does require diamond grade sheeting.  We offer a variety of weighted based for the drums. We have 25-pound bases, or Tire Ring bases. Some people like the tire ring for interstate or should work operations, however, they extend past the edge of the drum by 8 to 12 inches. The weighted bases are ideal for areas where you may not have the extra room and need to keep your channelizers more compact. We also have flashing yellow lights available where needed or required due to higher drop-offs or where additional visible warning is needed.
A Frame Barricades
We offer "A" frame barricades for sidewalk closures, street closures, industrial and commercial functions, shopping mall activities and anything you may have a need to close or block down for a specific event or problem. These barricades are ideal for blocking down roads and streets in emergencies such as flooding, sink holes, washouts, fallen trees or wires, or general construction or maintenance projects. These are also great for shutting down parking lots or section of parking lots. They are great for closures at street fairs, parades and carnivals.
Type III Barricades
We offer Type III barricades of various sizes and heights. We have Type III barricades with panel lengths of 4 and 6 feet as our standard, but can build them to others sizes depending upon the use and need. We can mount signs to them for road and bridge closures. We can also mount signs on them for long term traffic control rentals for use in advanced warning applications, various traffic control setups and detour routes. The barricades can be mounted in a variety of ways. They can be mounted on portable bases held in place with sand bags, mounted on driven post bases driven into the ground, or they can be mounted on wooden posts set into the ground. The panels can be sheeted with various directional sheeting depending upon the side of the road they will be used on and depending upon the travel direction of the traffic. The barricades can hold a variety of different size signs based upon the application and use of the signs.
The barricades can have type "B" flashing lights mounted to them based on the state they are being used in and the type of setup being used. The color of the light is dependent upon the use of the barricade. For instance road closed may need yellow lights, stop may need red, active work zones may need white.
Water Filled Barriers
We can provide water filled barriers in various sizes for rent or sale to be used in various traffic control operations. These barriers can be used to protect construction areas, shopping mall, commercial and industrial events where vehicle traffic and pedestrian traffic need to be separated. They can also be used during building construction in cities and towns to block down sidewalks and construction areas along streets where a separation of construction and non-construction people and equipment need to be separated. They can be used to protect excavation areas or open pits from pedestrians and vehicles. The barriers can be easily moved with a fork truck or fork attachment, on a construction site. Some of the barriers have the capability to have security fencing placed in the top of them for additional security. We can deliver, setup and fill the barriers as requested. The barriers can be used year round. Some of the barriers are fitted with reflective sheeting for additional visibility. The barriers can be interconnected to serve as a continuous barrier. The barriers are available in two sizes of 32 inches in height and 48 inches in height.
Portable Traffic Sign Stands
We offer a variety of traffic control portable sign stands based on your needs. We have some compact stand that work very well for urban work areas were space is limited and traffic speeds are lower. We also have tripod and medium size stands for construction projects with speed of 55 MPH or less, and we have larger sign stands for use on interstate and higher speed roadways. We can rent stand for use with our signs or if you own your own signs and need additional signs give us a call.
Traffic Signs
We provide a wide variety of traffic sign types with various substrates. We offer standard aluminum signs, coroplast, dibond, roll-up signs and max metal for highway construction, utility and maintenance projects. All of our traffic control signs are sheeted with Hi-Intensity grade material, Prismatic Material or Fluorescent Orange sheeting, depending which state they are to be used in and what type of sign they are warning or regulatory. We offer various sizes of signs depending again on the place of use, state and speed of the area being used. Traffic signs can be mounted a variety of ways, on portable stands, driven posts, temporary surface mounted posts, Type III and Type II barricades, wooden posts, fence mounted and any nonstandard mounting depending upon the use. 
If you need emergency traffic control signs, D.E. Gemmill Inc. can also provide temporary signage for your construction site. We have been serving our customers for decades with the best in traffic sign solutions, including stop signs, ADA handicap signs, Pedestrian crossing signs, Do Not Enter signs, No Parking signs, safety and fence signs, Hard Hat Area signs, site delivery signs and any sign you may need to rent for your construction project.
Site Specific Signage and Banners
We can also provide traffic, directional, safety signs made of non-approved materials for private property, interior and building traffic control applications during construction and renovations. We can offer digital printed signage, safety banners and signs, professional construction character signs for interior and exterior applications with specific wording for your construction or remodeling site. These are for rent or purchase.
Stop – Slow Paddles
We offer stop and slow paddles for your personnel to use during flagging operations. All of our stop – slow paddles have reflective sheeting so that they are visible during daylight and nighttime operations. Most of our paddles have a 6 Ft staff or pole.