Architectural & Decorative Bollards in the Mid-Atlantic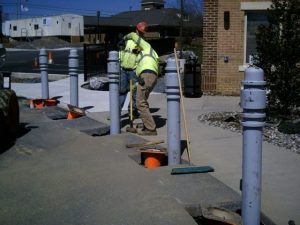 Bollards are concrete or metal posts that enhance safety in an area by blocking off vehicle traffic. Although some bollards are designed solely to catch attention, others contribute to the beauty of the surrounding area while still enforcing safety.
Architectural or decorative bollards make for better impressions and are used to enhance or beautify the property on which they are placed. You will usually find them standing away from buildings, around perimeters, near entrances, or along approaching pathways. Whether you need bollards to keep pedestrians safe or direct traffic flow efficiently, choosing decorative options will make your space more pleasant for visitors.
At D.E. Gemmill, we offer a variety of services for customers in the mid-Atlantic region. We can help you select the proper decorative bollards for your application, installing them for you quickly. We offer bollards in a range of styles and materials, including iron and steel.
The Benefits of Architectural Bollards
Architectural bollards present a wide range of advantages to a property when they're installed strategically. In addition to looking nice, they provide:
Traffic safety: Architectural bollards effectively block vehicle traffic while allowing pedestrians to pass through easily. Proper spacing ensures that individuals using wheelchairs and walkers can access both sides of the barrier. By deterring vehicles, bollards help direct traffic and keep buildings and people safe in busy areas without restricting movement.
Durability: Decorative bollards made of strong materials like iron and steel offer a high level of durability. Many bollards can withstand bumps and impacts from vehicles when necessary, further enhancing security around buildings, walkways and street corners. At D.E. Gemmill, we can help you identify a decorative bollard that will provide the level of resistance your application requires.
Visual consistency: Decorative bollards blend in with both contemporary and traditional architecture. Placed around historical buildings, upscale neighborhoods, parks and tourist attractions, they look more appropriate than purely functional bollards. You can select from various types of ornamental bollards and bollard covers in a range of decorative styles that can also fit into any historic or modern property settings.
Accessory selection: Decorative bollards often include useful accessories like chains and lights. Decorative chains are often seen along pathways or sidewalks to create a more scenic setting to the property and gently warn pedestrians not to cross, while lights improve visibility for drivers and safety for anyone walking at night.
Architectural & Decorative Bollard Uses
Architectural and decorative bollards often have dual uses. In addition to enhancing the visual appeal of a property's exterior, a bollard may serve a functional purpose, such as controlling traffic or defining the edge of a walking path. Applications for decorative bollards can include:
Hitching posts for carriages or horses
Bicycle security that provides a place to lock up a bicycle
Pedestrian path guides
Definition for a property's border
Vehicular traffic control
Protective barriers for lamp posts, fire hydrants and gas pipes
Decoration for green and urban environments
Landscaping or courtyard architectural design enhancements
Decorative bollards may feature different design elements to help them fulfill their intended purpose. For example, bollards designed for hitching horses may have large, rounded tops to prevent slipping. Other bollards may have slanted or curved tops to deter visitors from leaving trash. No matter what you need an architectural bollard to accomplish, D.E. Gemmill can provide high-quality options that work for you.
Contact Us to Learn More About Our Contracting Services
At D.E. Gemmill, we have been offering innovative products and contracting services for the pavement maintenance industry since 1986. Today, our caring employees work hard to ensure that every customer receives excellent service. When you choose us to install decorative or architectural bollards on your property, we'll get the job done quickly and correctly. We also offer free estimates for all our contracting services. To get started, please call 717-755-9794 or fill out our online contact form.