Colored Pavement Markings & Green Bike Lanes in PA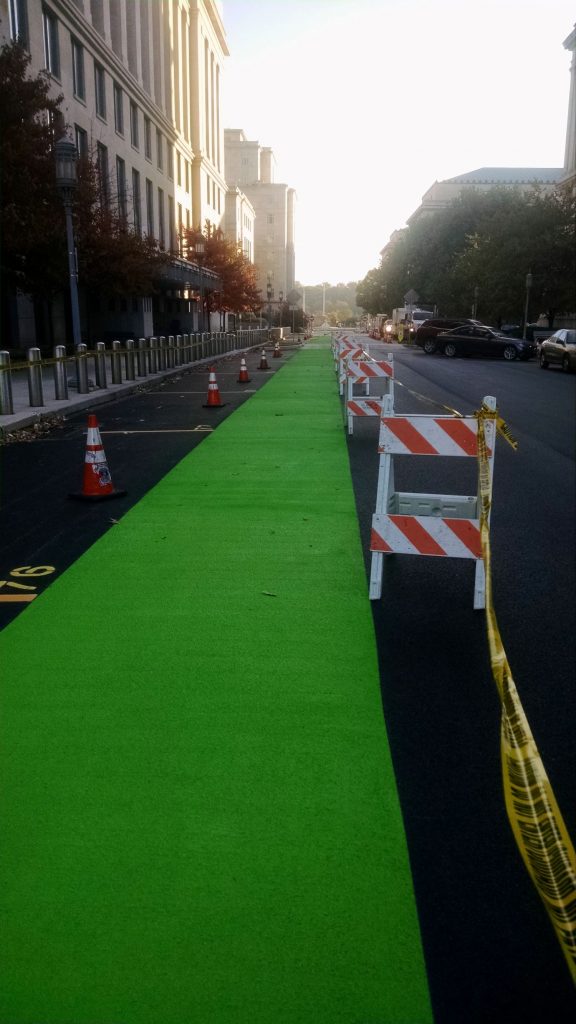 Over the past two decades, the popularity of bicycling as transportation, rather than strictly recreation, has soared. Since 2000, for instance, the number of people commuting to work by bicycle has increased by 60 percent. People have begun to recognize the benefits of using two wheels versus four, such as decreasing your carbon footprint and increasing your aerobic lung capacity. Getting fresh air and exercise appeals to so many people.
This has led to the rise in the number of bike lanes dotting cities throughout Pennsylvania, as towns adjust to the new reality of bikers coexisting with drivers. Giving bikers their own space enhances safety and reduces confusion on the roads. It is critical to make these distinctions to protect everyone.
Bike and Pedestrian Paths or Pedestrian and Non-Motorized Paths
D.E. Gemmill is excited to bring you a specialized bike lane treatment called CycleGrip MMAX that conveniently combines state of the art Methyl Methacrylate resins with hard wearing aggregate and premium pigments to deliver an extremely durable, highly visible and color stable priority lane delineation treatment that meets the non-slip requirements needed for cyclists. Bike lane pavement markings can be used to delineate bike lanes to improve road safety by enhancing bike lane presence in applications such as, but not limited to corridor treatment along the length of a bike lane or cycle track especially at areas where bicycle and vehicular conflict are expected and enhanced safety is needed.
In 2015, 5,376 pedestrians were killed in pedestrian/motor vehicle crashes, which is nearly 15 people every day of the year representing the highest number of pedestrians killed in one year since 1996. In 2016, 840 people lost their lives in bicycle/motor vehicle crashes which is more than 2 people every day in just the United States alone. D.E. Gemmill is dedicated to promoting safe motorist and bicyclist behavior through education and we would be happy to assist your local town or city come up with a Non-Motorized Transportation plan to help keep pedestrians and bicycles safe.
These bright green bike lanes are spreading throughout the region to make bicyclists more visible and to ensure safety where cyclists are most likely to mix with heavy auto traffic. The Federal Highway Administration considers green pavement markings to be effective in increasing awareness and visibility of bike lane conflict areas, and reaffirms the cyclist's place in the road and encourages drivers to yield. bicyclists report feeling safer on green colored pavement markings because motorists have more of a tendency to be aware of potential conflicts.
How to Add Green Pavement Markings for Bike Lanes
Green pavement markings fill up an entire lane, so there is no doubt among drivers or riders where the bike lane is. The fewer questions you have on the road, the safer it will be for both groups.
The application of colored pavement material requires experience. You need to clean the path before applying the material to ensure the best quality. You should also have a basic understanding of pavement marking best practices. D.E. Gemmill can handle this task for you. We have assisted many municipalities with their green pavement markings for bike lanes, and we understand the best ways to keep both drivers and riders safe through this specialized process.
Our green bike lane pavement marking contractors follow bicycle lane facility design guidelines, including:
Using white on the edges of the green to match with other lane requirements and provide better nighttime visibility
Making the green areas skid resistant and retro-reflective
Ensuring the color remains consistent throughout the bike corridor
Adjustments for Colored Bike Facilities
We can also discuss specific requirements you would like for your bike lanes. These enhancements may not serve the purpose of other communities, but you prefer them for yours because of circumstances unique to your location, which might include:
Adding dashed patterns to designate merging areas
Using color gaps to designate crossing areas
Applying white to designate shared lane markings
Green Bike Lane Paint Benefits
Why should your township or municipality consider adding green bike lane paint? You increase safety in so many ways by embracing green bike lanes. Just a few of the benefits include:
Increases awareness of shared roadway use among motorists and cyclists
Enhances visibility of bike lane presence
Provides clear delineation and traffic calming treatment
Promotes balanced multimodal transportation networks
Fast cure times in a wide range of temperatures
Open to traffic in approximately 20-60 minutes
Skid-resistantmaterial
Strong adhesion to concrete and asphalt
Performance-Based Features
Our green bike lane material offers many benefits, including:
Durability: The state of the art Methyl Methacrylate resins with hardwearing aggregateprovide extreme durability
Friction: Meets non-slip requirements for cyclists. Surface provides remarkable traction for safe pedestrian and cyclist traffic
Color Stability: Advanced technology provides long-lasting color retention, especially against UV Rays
Why Choose Us as Your Colored Pavement Marking Contractors in PA?
With more than 30 years in the pavement maintenance industry, D.E. Gemmill understands the need for effective and long-lasting pavement markers that improve safety for everyone traveling on the roads. We have the experience and knowledge to find the most effective ways of completing our contracting work. We only use the best materials on pavement marking jobs, and we talk to our customers to understand their goals and take their timelines into account.
When you contract with us, you receive more than good service. You get a partner who cares about solving your problems. We can assist you with any aspect of the colored pavement marking process, and we can provide guidance on any pavement-related questions that may arise throughout your project.
Contact Us Today to Set up a Free Consultation for Green Bike Lane Painting
Let's get started on your project as soon as possible. To learn more about our green bike pavement markings and how they can benefit you, contact us to schedule a free estimate. We look forward to assisting you and making your community a safer place for bikers and drivers.
SOURCE:
https://www.census.gov/newsroom/press-releases/2014/cb14-86.html