Sign Manufacturing & Installation in the Mid-Atlantic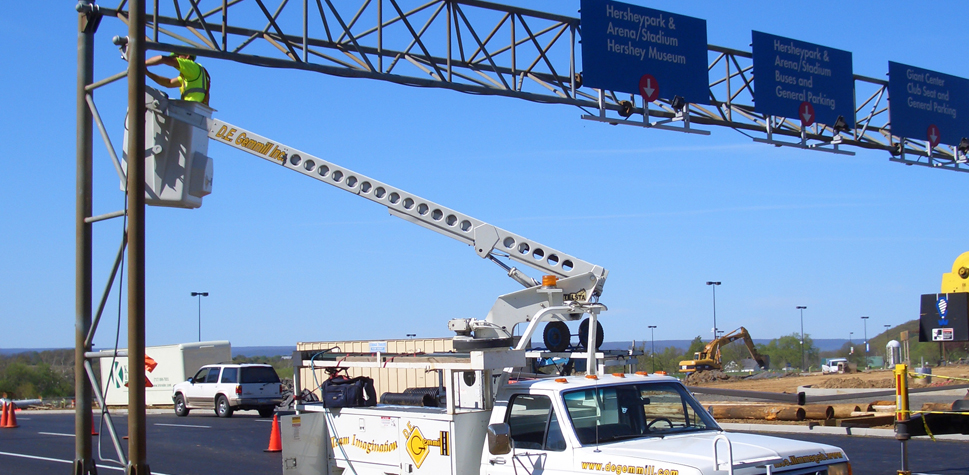 Signs are responsible for conveying information that affects our daily lives. Whether it's a traffic sign outlining the rules of the road or a business' sign telling potential customers what they can expect inside, clarity, visibility and consistency are essential qualities. It's for this reason that companies have detailed branding guidelines and state and federal regulations contain specific requirements for street signage.
A sign manufacturer's role is to act as a bridge between these requirements and the finished product. At D.E. Gemmill Inc., it's a role we take very seriously. We are a leading sign manufacturer for businesses, public works departments, construction crews and other clients who require a high-quality product at a reasonable price.
As a top sign manufacturer based in York, PA, we offer sales and service throughout Pennsylvania, Maryland, Virginia and Delaware. Browse our online store to view available products or contact a representative to inquire about custom projects.
 Traffic Signs
Our long history of traffic sign manufacturing in York, PA, and beyond makes us an ideal partner for any government or construction project. With a focus on the Mid-Atlantic region, we understand state and federal signage regulations better than anyone and can make sure you achieve compliance with all applicable laws.
We can supply and install retroreflective and illuminated traffic signs, ADA-compliant parking signs, guide signs that lead vehicles in the appropriate direction and temporary traffic control signs for use on roadwork sites and in emergencies. We also sell square, u-channel and wooden mounting posts that make it easy to install your sign in the desired location.
 Custom Signs
Our expertise in sign manufacturing extends beyond traffic signs. We are fully qualified to manufacture and print custom banners and other signage for businesses, nonprofits and other clients. Using state-of-the-art digital printing technology, we create high-quality products at a low cost and back up everything we sell with on-site installation and maintenance support as necessary.
Whether it's a wayfinding sign, banner or a laminated digital graphic, we can find the best combination of product and process for your needs. Our vinyl banners are durable enough for outdoor use, with a typical lifespan of up to 12 years. We excel at color matching to fulfill your branding requirements or to meet state highway department recommendations for construction applications.
 Service and Maintenance
The ability to install and service our products distinguishes D.E. Gemmill Inc. from other sign manufacturers in Pennsylvania and the surrounding region. We offer full turnkey support for any project and can be on-site to assist with setup and existing signage relocation or removal.
After installing your sign, we can provide ongoing support, whether it involves cleaning, painting or sanding to give it a fresh look or, for illuminated signs, bulb replacement and electrical work. As a sign ages, we can also provide more comprehensive restoration services or replace it with a new unit that's indistinguishable from the old one.
 View Projects Online
See for yourself the quality work we've delivered in the past for our diverse client base. Check out our online project gallery for details or contact our office directly to learn more about our services and request a quote.