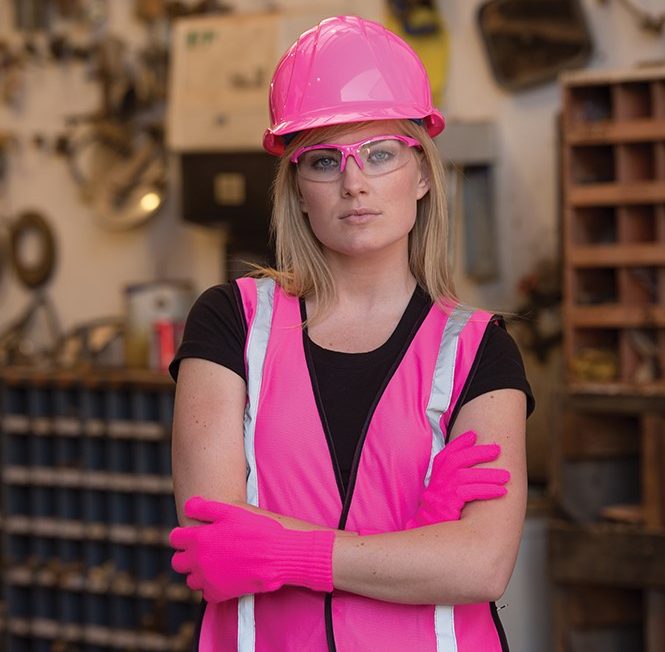 Women's Construction Hard Hats
Hard hats are a vital workplace tool to protect the most vulnerable part of the human body — the skull. D.E. Gemmill, Inc. has a wide selection to accommodate the women on your workforce with stylish color schemes and robust functionality. These certified safety hard hats can offer protection from dangerous impacts that happen on the job site. 
Save lives and protect yourself from regulatory liability with safety-certified headwear from D.E. Gemmill. Inc. 
Our Selection of Women's Hard Hats
D.E. Gemmill, Inc. has a variety of women's hard hats to accommodate a sense of style and functionality. 
Americana Pink 4 Pt Ratchet Suspension Hard Hat: ThisAmericana hard hat has a four-point woven nylon suspension with air vents on the top of the hat for breathability. There are also slots for eye, face and hearing protection accessories. The hat fits sizes 6.5–8 and meets the American National Standard Institute Z89.1 criteria and Type 1, Class C requirements. 
Omega II 6 Pot Ratchet Suspension Purple Hard Hat: The Omega II hard hat comes with a Mega Ratchet secure-fit design so wearers can turn a knob to loosen or tighten the fit. The hat is available in sizes 6.5–8 and has Safety Equipment Institute (SEI) certification. 
Hard Hat Safety Standards
D.E. Gemmill, Inc. understands that women need well-fitting construction hard hats for smaller sizes. An incorrectly-sized hat could lead to head trauma in an accident.
In dangerous conditions, the Organizational Safety and Health Administration (OSHA) dictates that employees must wear headgear with industrial-grade protection. The OSHA 29 CFR 1910.135 mandate also lays out several standards set by organizations other than OSHA that the helmet must follow. The ANSI Z89.1-2014 regulation guarantees that a helmet has testing for temperature, apex penetration, flammability, wetness, force transmission and more. 
There are also varying types of suspension for hard hats. A four point suspension connects to the hat in four places to evenly disperse energy from a blow to the head. The six point suspension adds an additional strap that further reinforces the helmet. 
There are three classifications for hard hats: Class E (Electrical), G (General) and Class C (Conductive). Class E has a design that protects workers from up to 20,000 volts of electricity, Class G safeguards against 2,200 volts and Class C focuses solely on head impact and breathability rather than electricity. 
D.E. Gemmill, Inc. offers women's hard hats with a variety of safety specifications to meet the needs of women on the job site and protect this essential part of the construction workforce. 
Shop Women's Safety Solutions Today
Ready to match your project with the ideal hard hat solution? D.E. Gemmill, Inc. has a team of knowledgeable and friendly customer service representatives available to guide you to the right fit. Fill out an online contact form or give us a call at (866) 755-9794 to select your hard hat solution today.