Flame Resistant Shirts
Showing 1–9 of 16 results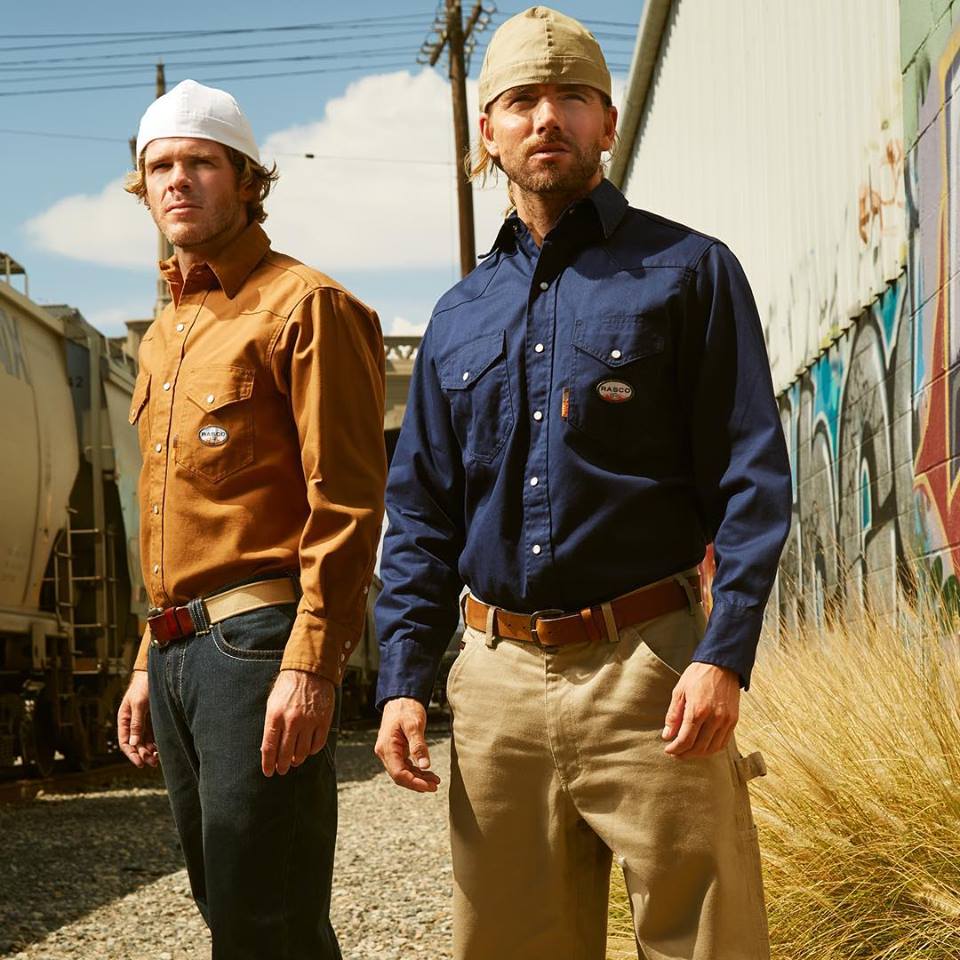 D.E. Gemmill Inc. carries flame-resistant (FR) shirts by Rasco and other manufacturers. Available products range from high-visibility work shirts to comfortable Henley tees and more. All products meet NFPA 2112, ASTM 1506 and other relevant standards for flame resistance.
FR shirts are essential when working near sparks, arc flashes and other hazards. FR clothing self-extinguishes flames on contact, preventing ignition and halting accidents before they start. Combine our FR shirts with flame-resistant pants, outerwear and accessories. To browse our full inventory of products, follow the links below.
Choose From Several Types of FR Shirts
D.E. Gemmill Inc. offers multiple flame-resistant shirt options to accommodate wearers in any work environment:
Flame-resistant T-shirts: If you work outdoors or near sources of heat, these long-sleeve T-shirts will help you stay comfortable. The ANSI Class 2 certification also ensures excellent fire protection for the life of the garment. The Modacrylic/cotton/poly blend wicks sweat and moisture away, keeping you cool and dry. The combination of the bright yellow color and strategically placed reflective silver tape enhances visibility and safety.
FR safety vests: Our Category 2 vests include a host of performance features, such as solid Modacrylic blend flame-resistant material and a hook-and-loop front closure that makes them easy to take on and off. The 2-inch-wide laminated reflective material adds safety and visibility. Two lower inside patch pockets and one inside left chest pocket offer multiple storage possibilities. The sleeveless vest design provides more flexibility and freedom of motion. 
Dress shirts: Does your work environment require a more professional appearance? Our selection of Rasco FR dress shirts combines excellent fire protection with stylish looks. The lightweight material will help you stay comfortable, while the choice of attractive colors, such as gray and white, green, red and blue plaid, enables you to make a favorable impression on project management personnel and others at the job site. 
Sweatshirts: Our fire-resistant pullover hoodies can withstand the rigors of challenging work environments such as oil and gas fields and drilling sites. While the durable material offers reliable fire and flame protection, it's also surprisingly lightweight and comfortable. The attached hood with drawstring closure keeps the head warm and dry and provides the flexibility to adjust your level of protection to suit your conditions. Uniquely designed ribbed cuffs ensure a secure arm fit. 
Lightweight work shirts: We offer prewashed work shirts for sale made from a cotton twill material that yields high durability. The combination of the lighter weight and flame-resistant properties ensures maximum comfort and exceptional fire protection. These FR shirts will also meet your functional needs — the two chest pockets with flaps and snap closures enable you to carry smaller objects and keep them accessible while on the job.
What to Consider When Buying FR Shirts Online
An FR shirt's arc rating measures its ability to prevent a fire from igniting. The higher the number, the more protection. Fabric with an arc rating of 9, for example, will have a 50 percent chance of transferring enough heat to cause a second-degree burn when exposed to a flame producing nine cal. of thermal energy.
However, when it comes to buying FR shirts, numbers alone don't tell the whole story. Your purchase must meet minimum specifications and regulatory guidelines, but it must also be comfortable, or workers won't use it. Look for products made from breathable fabrics such as chambray denim or cotton. Shirts must also be sized appropriately and meet visibility guidelines if working in low-light conditions.
The D.E. Gemmill Inc. inventory includes multiple sizes, colors and configurations of some of our best-selling FR shirts. If you need help choosing something appropriate for your needs, contact our office by phone or email or stop by our York, PA, showroom for in-person assistance.
Why Buy FR Shirts From D.E. Gemmill Inc.?
We remain exclusively committed to safety apparel and traffic control products. We specialize in these items and know them better than any catalog retailer. As a result, we can offer expert advice based on our more than 30 years of expertise.
We also offer a flexible return policy as well as reliable shipping to anywhere in the country. Whether you shop online or visit our showroom, we are your source for FR shirts, pants and everything else you need to stay safe on the job.
Browse our entire collection of flame-resistant shirts and place your order online today. You can also call us at 717-755-9794 (corporate office) or 717-747-1391 (retail store) to speak to a knowledgeable staff member, or contact us online for additional information.