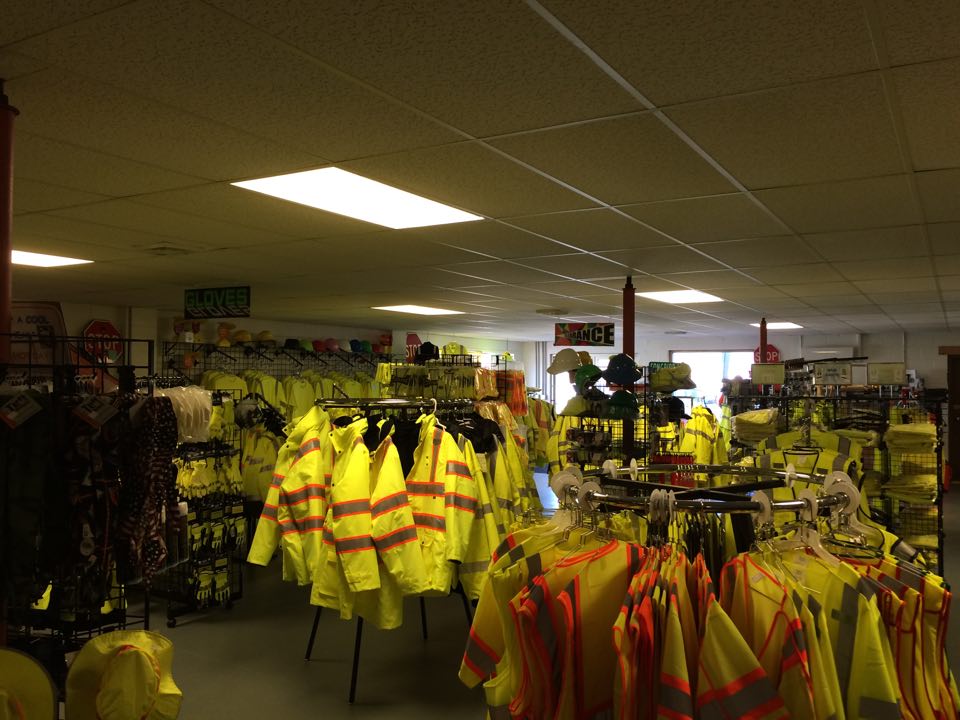 Eye Protection
Showing 1–9 of 12 results
Eye Protection Glasses for Sale
If you work in the warehousing or construction industry, you likely know the importance of adhering to strict safety codes. Operating heavy equipment is a tough job, and you need all the proper safety gear to prepare for every situation.
At D.E. Gemmill, we offer a full selection of protective eyewear for construction workers. Our safety glasses and goggles are ideal for high-demand job sites that require operators to work closely with heavy equipment or hazardous materials. You can use our inventory to find the exact pair of glasses that meets your project needs.
What Types of Safety Glasses Do We Offer?
D.E. Gemmill offers a broad selection of cost-effective safety glasses. Every pair of glasses is unique, so it's important to find one that offers superior protection and is also comfortable enough to wear for extended periods of time.
You can choose from one of our many options when you browse through our extensive selection. We have all types of safety goggles available, including those with open backs and those with straps to prevent you from losing them. We also have safety glasses in multiple colors, including white, gray, camo and multi-color.
If you need extra glasses for different applications or for several workers, we offer multi-packs of glasses. Our glasses are light, convenient and easy to slip on and off when you need additional protection. We even have bifocal glasses and special splash goggles for specific project demands.
Whatever type of glasses or goggles solution you need, you can find a suitable option for your construction site in our eyewear selection.
Should You Choose Safety Goggles or Glasses?
When picking safety glasses or goggles for yourself, it's important to note that there are several key differences between these products. Glasses can include prescription lenses, while goggles can fit over personal glasses. Goggles come in flexible and rigid designs to completely protect the eyes, and glasses cover a smaller area for more common, less dangerous situations. 
The 360-degree protection of goggles can form a tight-fitting seal on your employees' faces. These products are typically necessary when working with contaminants that have a high possibility of entering the eye. Some examples include dust, caustic vapors, metal from grinding and more.
Glasses and goggles also offer different helpful qualities. 
Our bifocal safety glasses feature built-in magnifiers as a safer alternative to reading glasses. These magnifying lenses help you to avoid switching between safety glasses and ordinary reading glasses so you don't risk hazards like tiny pieces of metal hitting your eyes. D.E. Gemmill has a variety of diopters so every worker on your team can find a pair to match their vision strength. 
With our splash goggles, you can also have customized protection from chemicals and caustic liquids. We offer both indirect vented and non-vented models:
 Indirect vented goggles prevent splashing chemicals from reaching the eyes because there is no straight line from the outside to the inside of the frames. 
Non-vented goggles have no openings, protecting your team from chemical vapors. 
Why You Need Protective Eyewear on the Job
If you work on a construction site with heavy equipment, having the proper safety gear is essential. Protecting your face is one of the most important parts of keeping yourself and other operators safe on the job. Whether you're doing road maintenance or handling another heavy-duty project, you can benefit from the facial security our protective safety goggles provide.
Job site accidents can be costly, and in many cases, they can lead to major worker injuries. Protective eyewear has a wide variety of benefits that can help workers prevent these types of injuries. For example, safety glasses can protect against:
Dust and other small particles that may irritate the eyes.
Dangerous chemical splashes from hazardous substances.
Stray flying objects that could break loose during projects.
Sparks and flames from heavy equipment or high-risk processes.
With eye protection glasses for sale at D.E. Gemmill, you can reduce costs, improve safety and give workers around you more confidence on the job.
Construction Safety Glasses Standards
The vision of your employees matters to D.E. Gemmill, which is why our safety glasses follow Occupational Safety and Health Administration (OSHA) guidelines to help protect your team's eyes while they work.
D.E. Gemmill wants to offer you up-to-date solutions that your employees can trust. That's why we supply safety products that adhere to various safety standards, including:
ANSI Z87.1: This guideline from the American National Standards Institute (ANSI) has different versions to protect your team. ANSI ratings include impact and non-impact protection, dust and splash protection and optical radiation protection. 
CSA Z94.3-15: The Canadian Standards Association (CSA) can protect your vision with ratings for protection from debris, electrical hazards, chemical splashes, radiation and more. 
MIL PRF-31013: This U.S. Military Performance Specification can give your team peace of mind on heavy-duty projects with an impact strength 7 times greater than the ANSI Z87.1 standard. 
By providing safety glasses that follow these guidelines, we want to ensure our equipment protects your team on the job site.
Browse Through Our Inventory Today 
The proper protective eyewear can lower job site risks while keeping your eyes clear and comfortable from start to finish. We'll be glad to help you find a pair of glasses or goggles that works for you. Reach out if you have any questions, or browse through our inventory of safety glasses today.