A Guide to Essential Traffic Control Devices for Temporary Work Zones

Every job site needs to prioritize the safety of those working on the project and the general public that will be passing through the site. This is especially true for temporary work zones that may be altered or relocated as the project moves forward. With a variety of factors, like natural lighting and other environmental influences, impacting the visibility and conditions of the site, traffic control devices are essential for temporary work zones.
We know that safety is the primary concern of every project manager, and we also understand that the needs of every work zone are different. The safety requirements of a site along a highway or roundabout may require certain traffic control devices that aren't necessary on rural roads or in parking lots. Because not all project managers may know exactly which traffic control devices (TCDs) are necessary for their work site, we've created this guide to help explain the different types of TCDs and in which work areas they're applicable.
There are many types of traffic control devices that can be easily integrated into your temporary work zone. These products can improve the visibility of signage, the ease of communication and the overall safety of those interacting with the temporary work zone. In this guide, you'll learn how each type of temporary work zone is defined and how various traffic control devices can impact the safety of these sites. You'll also find information on how to properly install, modify and replace these devices to fulfill the project's requirements.
Instances When You Need a Temporary Work Zone

A temporary work zone may be required for a number of projects including landscaping, road construction, scheduled maintenance, emergency repairs, temporary road closures, new traffic patterns or any other instance in which a project may impede or impact drivers within or near the work zone. Temporary traffic control zones can be categorized into five specific types:
Long-term stationary zones are those work zones that occupy a fixed space for a period of three days or longer.
Intermediate-term stationary zones are projects that take place within a fixed location that last either more than three days during daylight projects or more than one hour for projects that occur between sunset and sunrise.
Short-term stationary work zones are projects that occupy a single fixed location for a duration range of one hour to twelve hours.
Short duration work zones will occupy a fixed location for less than a single hour.
Mobile work zones are those that will occupy more than one location either intermittently or continuously.
After you've identified the duration of your temporary traffic control plan, you'll next need to consider the following questions to help you determine which temporary work zone products your site will require:
Where will the work zone be located? The location of the project directly impacts the safety of those working or traveling through the zone. Work zones off of the road may require different traffic signs for traffic control than projects that take place along the shoulder or in the roadway itself.
What type of road will the project take place on? This includes relevant information such as how many lanes the road has, if opposite sides of traffic are divided by a median and whether or not there are any major lane or traffic changes that would immediately impact vehicles passing through your work zone.
What types of traffic will impact the work zone? Consideration should be given to the volume and speed of traffic, increases in traffic due to the time of day and any other forms of traffic like pedestrians or cyclists that may be present.
Which traffic control devices will the project require? This includes everything from signage to bollards. You should also consider what type of temporary work zone safety devices will be required to aid project personnel in installing and removing the temporary work zone products.
Temporary traffic control zones may be limited in use depending on the project's location and duration. It's important to also consider traffic areas that present unique challenges to drivers, pedestrians or cyclists. A notable example is a project in which the temporary work zone is within or in close proximity to a roundabout. The unique way in which vehicles respond to this particular traffic pattern, as well as the limited number of roundabouts that exist in the United States, requires project managers to be aware of distinctive challenges.
In all cases, project leaders should follow the traffic control guidelines put forth by the local, state or federal entities. Regardless of project type, duration or location, the goal of every temporary traffic control work zone is to accomplish the project in the safest manner for all parties involved while minimizing the disruption of road traffic. To accomplish this goal, your site will need to employ the use of temporary work zone products.
Types of Traffic Control Devices

Safety is the number one priority of every temporary work zone. To achieve the highest level of safety, traffic control devices are installed or used in these areas to convey clear and simple instructions to drivers that they can successfully respond to before they encounter the activity area. All traffic control devices are constructed with the following characteristics to ensure this goal is met:
Have specific colors depending on device type and application.
Be clearly visible during the daytime as well as during the night, periods of low light and inclement weather.
Be easily identified from an appropriate location that gives drivers adequate time to respond.
Present messages that are informative and brief.
Traffic Control Signs

Communication is critical to ensuring the safety of crew members and the public that passes through a temporary work zone. Traffic control signs are used to provide awareness, guidance and information to drivers and can be separated into three distinct categories:
Regulatory Signs: This type of signage is installed to inform drivers of traffic laws or regulations that need to be observed within a designated zone. Only regulatory signs that have been authorized by official agencies or jurisdictions are applicable for installation. Some informational traffic signs that are considered regulatory include 'one-way', 'stop', 'yield', 'do not enter' and 'wrong-way' signage. Other common forms of regulatory signage are also typically distinguishable by their rectangular shape, white background and black images or text, such as speed limit signage.
Warning Signs: Warning signage may either be present in a temporary work zone or permanently installed in areas where drivers need to be cautious or aware of events that may impact or impede traffic. Warning signs are commonly used to alert drivers of upcoming roadwork or construction. These signage types will be diamond-shaped with an orange background. All borders, images and text will typically be black. Exceptions include authorized signage that features a fluorescent yellow or yellow-green color, such as warning signs for highway and railway crossings.
Informatory Signs: Also referred to as guide signs, informatory signage provides drivers with the relevant information they need as they safely travel through a temporary traffic control zone. Unlike regulatory or warning signage, informatory signs are used as needed for pedestrians or drivers. Examples include signs that identify a street name, directional signage, parking, rest areas, public service plazas or standard route markings. Informatory signage may also be used to identify an alternate route to reach a specific destination or road.
One way you can ensure your temporary work zone features accurate information is by creating customized traffic signage to fulfill the project's requirements. For example, regulatory signage can be created to display relevant information in accordance with all laws and regulations. Clear and accurate signage that obeys all state signage requirements protects all parties on the road. You can also consider using collapsible signs of different shapes or sizes that can be mounted to sign posts or stands as needed and easily removed when finished.
Traffic Bollards

Even in the safest scenarios, accidents and incidents can occur. To protect personnel, pedestrians and property, temporary work zones often use traffic bollards as a barrier between moving traffic and the project site. Bollards are metal or plastic posts that are used to create a perimeter between the flow of traffic and an area that needs protection from that traffic, such as a building or road construction zone. Bollard designs include:
Removable Bollards: Though removable bollards can act as physical barriers, their greatest application is as a visual deterrent. They can be easily placed or removed from temporary work zones when needed to enhance the awareness of lane closures, roadwork or increases in vehicle or pedestrian traffic.
Collapsible Bollards: While they are permanently installed in the ground, collapsible bollards can raise and lower, enabling them to be present when necessary and concealed when not in use. A common use for collapsible bollards may be in recreational parks or areas in which public service equipment is stationed. This allows qualified service personnel to easily access these areas while preventing public traffic from entering. Collapsible bollards could be installed in a work zone area that will require constant or regular maintenance as well.
Fixed Bollards: Permanently installed into the ground, fixed bollards are used in applications that require continuous protection against traffic. These bollards may be installed in shopping plazas to separate the store's main entrance and exit from road traffic or used as a barrier in front of government buildings to prevent vehicles from intentionally trying to ram pedestrians or collide with the building itself. It is highly unlikely that fixed bollards will be required or used in any temporary traffic control zone.
To increase the safety and protect the integrity of your job site, you may want to use bollards throughout the temporary work zone. Protective and security bollards are designed to prevent vehicular traffic from entering work zones or damaging property. Sign bollards will protect your posts and signage from accidental damage in busy work zones. For a temporary barrier system, use collapsible bollards to provide convenient and secure protection. You can continue to enhance the safety and visibility of the site by employing architectural or safety bollards.
Light Bars and Personal Safety Lights

Visibility is key in every temporary work zone. Personal safety lights and light bars enhance the area by providing crisp, clear light where it's needed most. Light bars can be installed on vehicles operating within a work area and may be stationary to alert drivers to changing road conditions or mobile, acting as a shadow or spotter for crew members who are installing, removing or modifying other traffic control devices on foot.
Personal safety lights and light bars provide adequate lighting for individuals. Though they may not immediately draw the attention of drivers, these lights help keep crew members safe by offering clear visibility in their immediate workspace.
Stop and Slow Paddles

Though stationary signage is adequate for informing drivers of upcoming changes to the flow of traffic, many sites will also employ the use of flaggers on smaller roads in urban or rural areas. These individuals will be dressed in reflective and fluorescent clothing so that they are clearly visible to drivers during the day and night. Using handheld devices like stop and slow paddles to direct traffic, drivers are given an additional layer of information that helps guide them through the temporary work zone.
Stop and slow paddles are used to accomplish three tasks:
Alert or slow oncoming traffic.
Stopping the flow of oncoming traffic.
Guiding stopped traffic through the temporary work zone.
Using these devices allows your crew members to adjust, remove or install new traffic control safety devices throughout the work zone as well as safely and effectively control the flow of traffic as it passes through your project site. A solid paddle attached to a handle can be held up or lowered when needed. A paddle sign that is attached to a long pole that can be turned from 'stop' to 'slow' whenever traffic changes must occur.
Traffic Control Flares
Traffic control flares are another vital tool to have on every temporary work site. These devices can alert drivers to potential dangers on the roadway and can be clearly seen in daylight and at night. Flares are especially useful during emergency situations such as car accidents or road flooding to effectively caution drivers when passing the incident. Make sure your site is fully equipped with all of the traffic control flare equipment you might need. Each flare kit should have a dedicated storage bag, rubber bases and extra flares in case of emergency.
Traffic Wands

Traffic wands for traffic control are useful temporary work zone products, particularly for overnight projects that may involve the frequent slowing or stopping of traffic. Used to ensure the safety of pedestrians and drivers, these tools may be applicable in scheduled construction zones and in emergency situations where an individual must direct traffic through the area using their own discretion. These lightweight batons should be durable enough to withstand the site's weather conditions as well as work efficiently for extended periods of time.
Safe Installation of Traffic Control Devices
To properly construct a temporary work zone, there should be a traffic control plan in place for that specific project. This plan should be followed in its stated order which may include the following steps: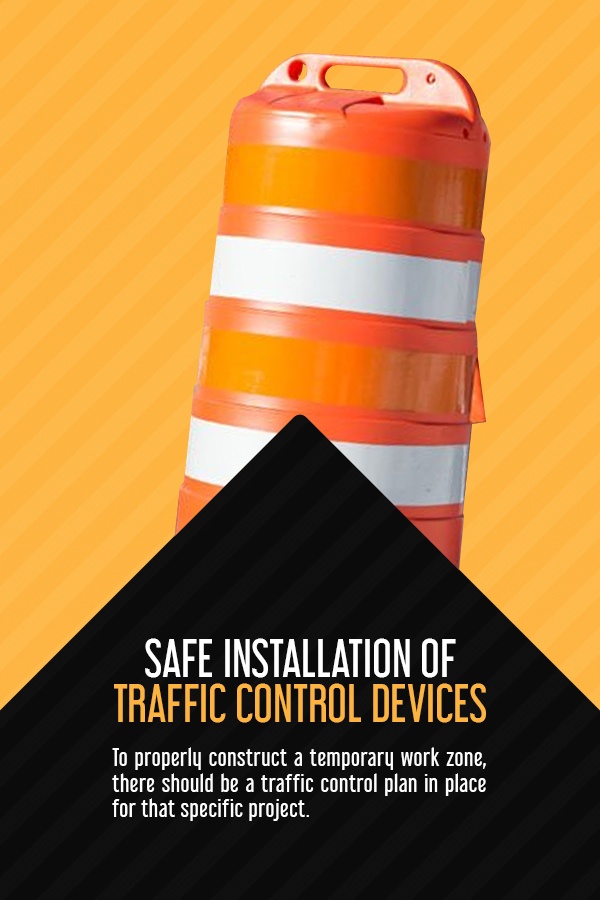 Step 1: Determine and mark the location of the beginning of the workspace. Once it is marked, measure out the distance of the buffer space and mark the beginning of it.
Step 2: At the beginning of the buffer space, measure and mark where the taper length begins. Repeat the same step at the beginning of the taper space to determine the required distances between the advance warning sign spaces to signify the warning area.
Step 3: Three advance warning signs should be placed in the advance warning area. The first sign must capture the driver's attention, and the second must show what road condition the driver will soon approach. The final sign will alert the driver to any lane changes, reduced speeds or stoppages they must make when they get to the end of the advance warning area.
Step 4: Install the arrow panel at the beginning of the taper. Next, install all traffic control devices within the transition area while monitoring the flow of traffic with help from a spotter vehicle.
Step 5: Install all temporary traffic control devices in the transition area, followed by the activity area, buffer space, workspace and the termination area. Once all temporary work zone products have been installed, inspect the entire temporary traffic work zone and ensure there are no missed steps or areas where drivers or crew members are not adequately protected.
Here are a few additional tips that personnel can use to stay safe while installing traffic control devices throughout temporary work zones:
Prioritize communication in every step of the process. All employees on-site should be aware of the work zone setup plan and how it will be executed.
Be vigilant at all times of the day or night, especially when visibility may be compromised. Spotters should be used whenever possible to ensure the safety of the entire crew.
Always wear personal protective equipment whenever you're in a temporary work zone.
Be cautious of increases in traffic volume, changes in the road or any other factors that could put drivers or crew members in danger.
Use truck-mounted attenuators to place as many traffic control devices as possible.
Have a plan in place to handle emergencies safely and notify the site supervisor of any conditions that may increase the chances of a crew or driver injury.
Removal of Traffic Control Devices
Safety continues to be a chief concern even when the project is nearing its completion. The following steps can aid in the safe removal of traffic control devices from temporary work zones:
Step 1: All traffic control devices should be removed against the flow of traffic regardless of project size. Devices that are within the termination area should be removed first to enable traffic to continue resuming its normal flow.
Step 2: After all devices are removed from the termination area, it's now time to remove temporary work zone products from the activity area. The workspace should be thoroughly cleaned and cleared of all materials and debris before the devices are removed. Devices can be removed from the buffer space at this stage as well.
Step 3: Next, it's time to remove temporary traffic control signs and devices from the transition area.
Step 4: Finally, the devices and signage present in the advance warning area can be removed. As you move against the flow of traffic, you'll remove each sign, cone or other devices in reverse order which will conclude with the first advance warning sign being removed last.
Rely on D.E. Gemmill Inc. for Your Temporary Work Zone Products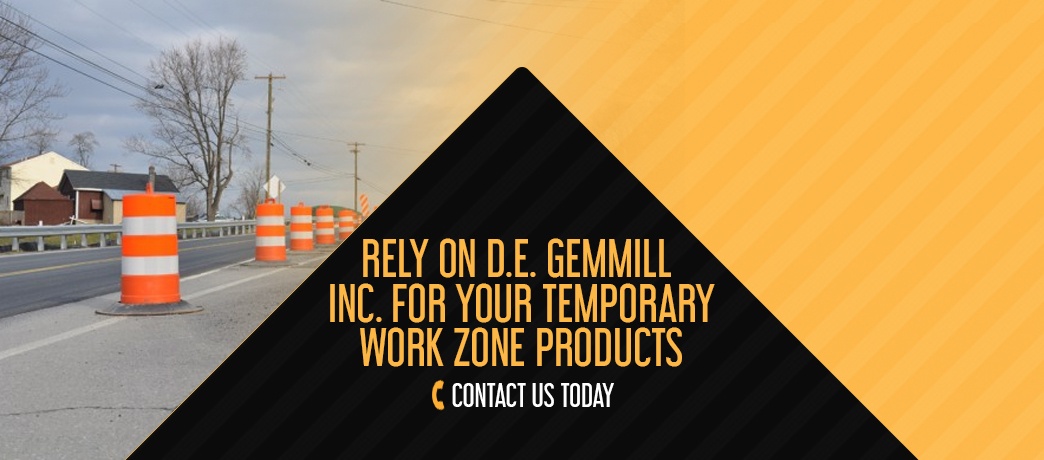 No one values the safety of your temporary work zone more than the experts at D.E. Gemmill. We pride ourselves on constantly striving to provide the most innovative and highest-quality temporary work zone safety devices in the tri-state area. Our products can meet the needs of any temporary traffic control plan, keeping all drivers and crew members safe throughout the project's completion.
We encourage you to browse our wide selection of traffic control devices and personal protection equipment on our website. Those in York or the surrounding area are invited to shop our products in person at the D.E. Gemmill Retail Store locked on North Belmont Street. Don't risk a traffic control device violation or let the safety of your temporary work zone be left to chance. Contact the helpful associates of D.E. Gemmill today to learn more about our traffic control equipment for your temporary work zone.