The Myths Corrected: Six Surprising Facts About Women in Construction
When you think of construction workers, the first image that comes to mind is most likely a strong man in a hard hat lifting a heavy object. Many people believe that the construction industry is a rough and dirty job, made only for tough men. In other words, not a place for women. However, the construction industry is much more than just hard labor — it includes jobs in management, engineering, technology, vehicle operation and more. The construction industry is much more diverse than most people think, and its workforce should be too.
Over the last decade, a large number of women have joined the construction force in a variety of roles from management and sales to on-site work and operation of large machinery. And there is still much more space for women to claim in the construction industry. Women continue to break boundaries and challenge misconceptions about women in the workforce. Read on for surprising facts and statistics about women in construction.
Buy Women's construction Apparrel from d.e. gemmill
How Many Construction Workers in the US Are Women?
In May 2018, there were 7,210,000 workers in the construction industry. This makes up 4.65 percent of the total U.S. workforce. Across the country, men and women serve in construction roles working to improve our roads, build our cities and maintain our infrastructure.
In 2016, 939,000 women worked in a variety of construction roles. The number of women in construction peaked in 2006 with 1,131,000 women employed in the construction industry. Due to the economic crisis, this number dropped in the following years as unemployment rose. The number of women working in construction began to increase again in 2013 and has continued to grow every year as new opportunities arise in the industry.
In fact, the number of women working in construction in the U.S. has increased by over 51 percent since 1985. This increase in jobs for women in the construction industry shows a beneficial shift in the mindset of the construction community. Construction companies are more open to employing female workers in a variety of roles and recognize how valuable women are in the field. This increase shows a step in the right direction, but there is still much ground to be gained. Compared to other countries, the United States still lags behind in the percentage of female construction workers:
In Australia, women make up 15.9 percent of the construction workforce.
In Japan, women make up 15 percent of the construction workforce.
In the United Kingdom, women make up 12.4 percent of the construction workforce.
In Canada, women make up 11.7 percent of the construction workforce.
In the United States, women make up only 9.1 percent of the construction workforce.
Myth#1 : Women Don't Work on Job Sites
Historically, women have been confined primarily to clerical roles in the construction industry. When women first began entering the construction industry, they typically worked in offices doing paperwork or answering phones. Rarely were women seen on-site, handling materials or doing hard labor. Women were also underrepresented in managerial roles due to early prejudice against women in the workforce. However, the social norm has shifted in the past decade, and more women are working in hands-on construction positions and taking the lead as managers and supervisors.
Fact #1: Women Are On-Site in a Variety of Construction Roles
In 1985, 68 percent of women in construction served in clerical or other support roles. By 2010, this rate had dropped to 51 percent, and by 2016 only 45 percent of women in construction were serving in sales or office positions. Women are also gaining representation in a variety of other construction roles, with 21 percent of women working in construction trades, maintenance and natural resources. Below are some fast facts from the U.S. Bureau of Labor Statistics about women construction in 2015:
47,821 women worked as construction laborers
32,600 women worked as painters in construction
8,910 women were construction and building inspectors, making up almost ten percent of this specialization
5,490 women were sheet metal workers

Unique Jobs for Women in Construction
One of the areas of construction where women are represented the least is heavy machine operation. According to the Boston Globe, women are massively outnumbered in many areas of heavy machine operation and maintenance:
0.5 percent of service technicians and mechanics are women
0.8 percent of tower and crane operators are women
1.5 percent of mining machine operators are women
2.3 percent of other construction equipment operators and operating engineers are women
However, the small number of women that are working as heavy machine operators are making a big impact. Some companies employing women for these heavy-duty jobs have commended their female operating engineers for their precision, careful maintenance of the machines and ability to train thoroughly.
Steve Brown, a training director for the International Union of Operating Engineers commented that female operating engineers tend to take better care of machinery and inform supervisors if there are any issues with a machine. He also noted that female heavy equipment operators are often ahead of the curve on pursing education opportunities. They seek opportunities to fine-tune their skills and keep improving in their job roles. This work ethic also contributes to the rise in female leadership in the construction industry.
Fact #2: The Number of Women in Managerial Roles Is Rising
Women leaving clerical or office positions in the construction industry weren't just going on-site. Between 2010 and 2016, the percentage of females in construction management and other professional roles nearly doubled, rising from 15.8 percent to 31.3 percent. In 2016, approximately 293,000 women worked in managerial roles in the construction industry, and this number continues to rise.

The increase in women achieving higher positions in the construction industry is likely due to more women obtaining higher levels of education. In 2016, 41 percent of women in the workforce over the age of 25 had earned a bachelor's degree or higher. While enrollment in primary and secondary education is relatively the same for men and women, the number of women enrolling in tertiary education is higher than the number of men globally. In 2012, 80 percent of women in developed nations attended tertiary education. In both developed and developing countries, more women are pursuing master's degrees or other continuing education programs more than men. 
Emerging Opportunities for Women in the Construction Industry
Many of the recent changes in the construction industry have been a result of new technology emerging in the field. More construction machinery is being automated, construction companies are using drones to collect work site data, and other innovative technologies are being developed that will greatly change the day-to-day job of a construction worker.
These emerging technologies create specialized jobs that require specific education. The shift towards more technology use in the industry also means more STEM jobs for women in construction, such as civil engineers, mechanical engineers and surveying technicians. STEM jobs are particularly attractive to young men and women earning advanced degrees in science and mathematics fields.

The U.S. Bureau of Labor and Statistics predicts that jobs in STEM industries will increase by 17 percent from 2014 to 2024. This increase will create thousands of new job opportunities for women in construction. Women who enter STEM careers also earn on average 33 percent more than women in other jobs.
Myth #3: You Cannot Make a Good Salary as a Female Construction Worker
The U.S. economy has been historically unfriendly to women, with the infamous gender pay gap being the prime example. Across almost all industries, women tend to be paid less than men in the same roles. However, this is not the case for women in construction.
Fact #3: The Gender Pay Gap in the Construction Industry Is Small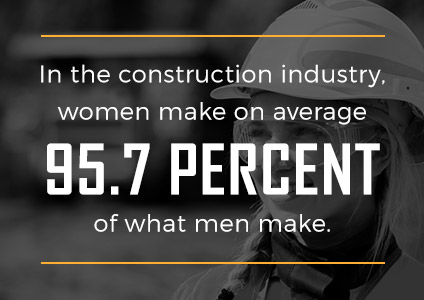 On average, women in the U.S. earn 81.1 percent of what men make. However, in the construction industry, women make on average 95.7 percent of what men make, beating the national average for the wage gap by 14.6 percent. The narrow gender pay gap in the construction industry is a large reason many women enter careers in construction — they recognize that their hard work will be rewarded with equal pay and equal benefits.
For some women, it may still be difficult to obtain a job in the construction field immediately following graduation. However, if they complete a training course or continuing education, they may find it not only easier to obtain a job, but also they can get a starting salary of three times more than an unskilled worker. Female construction worker salaries are competitive compared to their male counterparts and often have a higher starting salary than clerical or other office work.
Myth #4: Women Are Not Welcome in the Construction Industry
Pursuing a career in construction can be intimidating for young women. Construction is a traditionally male-dominated industry, and women may not know if they will be welcomed in the construction industry. However, attitudes have shifted in recent years as more women join the construction industry. There are now many organizations across the nation designed to support women in construction, including Professional Women in Construction (PWC), Women Construction Owners & Executives USA (WCOE) and The National Association of Women in Construction (NAWIC).
Fact #4: NAWIC's Annual Women in Construction Week Celebrates Women in the Industry
Every March, NAWIC sponsors Women in Construction Week to celebrate the importance of women in the construction industry. This week was created to help promote the visibility of women in construction roles. Women in Construction Week, or WIC Week, encourages young women to consider a career in construction and provides resources for getting started on that path. During WIC week, construction companies and chapters of NAWIC are encouraged to host seminars about Women in Construction or promote STEM events for women.
Other ways to celebrate WIC Week are to hang posters, hand out NAWIC buttons, host a Women in Construction Career Day event or a networking event for women looking to enter the construction industry. Through events like these, WIC Week breaks down the false stereotype that the construction industry is only for men.

Outside of WIC Week, The National Association of Women in Construction provides a nationwide community of support for women in the construction industry. Women can join a local chapter of NAWIC to connect with other women experiencing the same challenges — and joys — of working in construction roles. NAWIC also hosts an annual conference where all women working in construction roles are welcome, even if they are not NAWIC members. This conference provides educational lectures, networking opportunities and discussions with others in the industry.
Myth #5: People Don't Want to Work in Construction
The construction industry sometimes gets a bad rap. Many assume it is dirty and tiring with little reward. Others think that the construction industry is only for people who couldn't make it in a corporate career. But a career in construction is fulfilling and exciting in many ways, and many people choose it because they do not want to be stuck in an office. Many careers in construction enable you to work outside, have great benefits and complete exciting new tasks each day.
Fact #5: Many Smart, Skilled, Successful Men & Women Choose to Work in Construction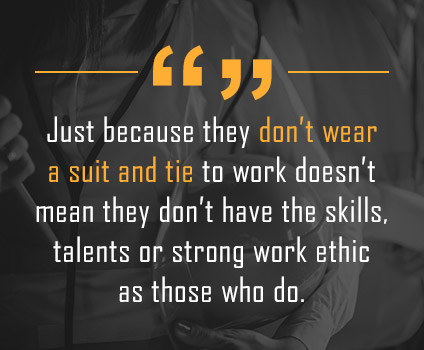 Allie Ruhl worked as a construction worker for a summer when she was eighteen and said it changed her life — and her perception of the construction industry. She realized that her co-workers had chosen a job in construction because of the possibilities it offered them, not because they had too. In her article for The LaLa, she wrote, "It wasn't the last resort, it was a choice. Just because they don't wear a suit and tie to work doesn't mean they don't have the skills, talents or strong work ethic as those who do. It's a different path of life, not a wrong one."
Many other women choose a career in construction because of the opportunities it offers them. They appreciate the equal pay in the industry, enjoy the challenges of learning new tasks on the site and love the satisfaction of seeing real results from their work.
Myth #6: You Have to Wear Men's Construction Clothing
Many people assume that because construction has traditionally been dominated by men, women in construction will be stuck wearing clunky jackets and over-sized gloves. Many women would reasonably object to wearing men's clothes as the wrong fit can be uncomfortable and unsafe. Luckily, as more women enter the construction industry, more clothing options have developed that are designed for women in the field.
Fact #6: Safety Clothing and Equipment Is Adapting for Women
In the past, it's been a challenge for women to find properly fitting clothing and equipment. Now, more companies, like D.E. Gemmill Inc., are committing to providing safety apparel to meet the needs of women construction workers:
Women's Safety Vests: Women working in construction and safety need high visibility vests to stay safe on the job. Traditional vests are often boxy and not designed for a woman's body. Women should look for safety vests that are lightweight and fitted to their body so that it won't get in their way at work.
Soft Shell Jacket: When working outside in the fall and winter, it is essential to stay warm. Construction workers need a jacket that will protect against rain and snow while providing high visibility on the site. Women need a jacket that fits their curves, to allow them to move freely and stay protected from the cold.
Women's Safety Gloves: Traditional work gloves are sometimes only available in a large size that is too big for women's hands. Buying gloves that fit is important for doing work precisely and keeping your hands protected. Our gloves also feature pink trim for an added pop.
Women's Hard Hats: Women working on construction sites need a hat that will keep them safe without impeding their vision. The right construction hat will fit her head properly as well as accommodate for any additional eyewear or headgear that needs to be worn on the site.

Now that women are joining the construction industry, the best retailers will offer a variety of women's construction clothing. This doesn't just mean they offer a selection of pink construction clothing, but rather that they offer clothing designed with women's comfort and safety in mind.
The Importance of Women's Safety Apparel for Construction & Safety Workers
Wearing ill-fitting construction equipment is not only uncomfortable, but it is also dangerous. Over-sized clothing can pose a danger of snagging on equipment, getting caught in machinery or simply impeding the motor function necessary to perform a task successfully. For example, construction gloves that are too big can cause workers to be less able to handle tools with precision. If a construction harness is not available in the correct size, a worker could risk slipping out.

Another essential safety feature is safety glasses or other protective eyewear. Safety glasses designed for men may often be too large for women. If safety goggles are not secure, they will need to be readjusted while the employee is working which is distracting and can also be dangerous. Women in construction should buy safety glasses designed with women in mind.
Women working in welding, on oil fields or with gas rigs are also at risk of being exposed to flames and heat in the workplace. For these women, properly fitting flame-resistant clothing is essential. Flame-resistant clothing should not be loose-fitting or it's at greater risk of coming in contact with flame. Women should select flame-resistant clothing that is tight but also breathable, as well as meeting industry safety standards.
Myth #7: Women Are Not Entering Construction
Many young women still perceive the construction industry as a male-only field. However, as we have seen, more and more women are starting careers in construction each year. As the field continues to develop, there are more positions created for smart, skilled women to fill. In April 2018, there were 485,000 new hires in the construction industry and an additional 232,000 job openings. Women interested in the construction industry have ample opportunity to snag a new position in the field.
Fact #7: The Number of Women in Construction Is Growing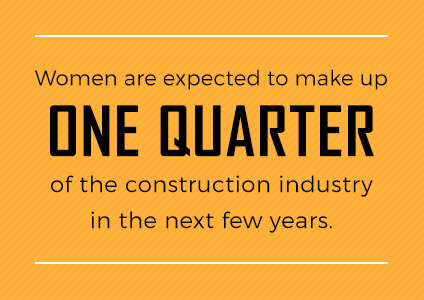 Currently, only 13 percent of construction firms are female-owned. However, of those firms, nine percent achieve revenues of over $500 thousand. Overall, only eight percent of construction firms overall make $500 thousand, so clearly women in construction are doing something right. It's no wonder that women are expected to make up a quarter of the construction industry in the next few years.
If You Are A Woman in the Construction Industry, Get the Right Gear for Your Career
Women in construction are breaking down barriers and challenging misconceptions about the construction industry. They are proving that there is a place for smart, successful women in the industry. As more women achieve higher levels of education, they are equipped with the right skills to tackle emerging positions in the construction field.
But to succeed on the job, women need gear that is designed with their needs and safety in mind. If you are a woman working in the construction industry, check out our line of "She's In Construction" women's safety apparel or stop by our retail store today.
Founded in 1986, D.E. Gemmill is a leading pavement marking and maintenance service provider. D.E. Gemmill also offers safety equipment including traffic control products, signs and, of course, innovative clothing. Contact us today if you have any questions, or to bring our Mobile Safety on Site truck to you.