Safety Apparel Buying Guide: Understanding High-Visibility Requirements for Construction and More

High visibility clothing provides one more way of keeping you safe on the job. These garments protect you from collisions involving vehicles passing by the worksite as well as on-site equipment. It's essential to understand the definition of high visibility clothing and the relevant regulations to stay safe and compliant. Whether you work in construction, a warehouse or any other job that requires you to be near vehicles, high visibility clothing may be both a requirement and a way to stay safe.

Buy High Vis Clothing From D.E. Gemmill
All About High Visibility Clothing
High visibility (hi-vis) clothing refers to garments that make you easier to see in certain lighting conditions. The classes of clothing differ based on the light levels and your proximity to traffic. You may have questions about whether high visibility clothing is mandatory, why you need it and how it works. Below, you'll find the answers to these questions and more.
1. Why Do We Wear High Visibility Clothing?
Workers from a variety of fields wear high visibility clothing to make them easier to see. Certain situations, such as working near roadways or at night, make wearing this type of apparel a requirement. Depending on your job location and the conditions, you may have mandates from your state and the Occupational Safety and Health Administration (OSHA) to wear reflective clothing that makes you easy to spot from a distance.

2. How Does High Visibility Clothing Work?
High visibility clothing uses a bright fabric with tape that reflects lights. The fluorescent-colored background highlights your general location. The reflective tape surrounds your arms and torso. These outlines ensure that even if a driver cannot see the color of your clothing, they can still see your silhouette reflected by any nearby light sources. By including the tape, your apparel distinguishes you from other brightly colored objects in the area, such as construction barrels and safety cones.
3. What Are the Safety Benefits and Features of This Clothing?
The main aspects of hi-vis clothing are reflective tape and bright background coloring. The fabrics come in fluorescent shades of red, yellow, orange-red and green. To ensure the garment has the appropriate safety features you need for your particular job, look for the ANSI/ISEA 107-2015 or ANSI/ISEA 107-2004 label. These labels indicate the clothing adheres to ANSI/ISEA standards. The ANSI/ISEA 107-2015 is the most recent standard adopted in 2015, while the latter refers to the guidelines from 2004.
ANSI/ISEA stands for the American National Standards Institute (ANSI) and the International Safety Equipment Association (ISEA). These two groups set out the standards for high visibility safety apparel (HVSA).
In 2015, the standards changed to allow for a better fit of high visibility clothing for smaller workers. It also includes information on using armbands and gloves to fit into the requirements. Labels on clothing that adhere to the most recent standards should have information about the clothing type, performance class and flame resistance.
4. When Is Hi-Vis Required?
HVSA is a requirement for specific jobs and circumstances. Hi-vis OSHA requirements include the following situations:
Flagging: Workers who flag traffic along roadways need hi-vis clothing.
Excavation: Those who work near holes or pits and have exposure to vehicular traffic must wear HVSA.
Struck-By Dangers: Anyone who is in work zones near traffic and is at risk for having a car hit them needs HVSA.

The Federal Highway Administration (FHWA) expands the requirement to all workers exposed to public road traffic or construction equipment traffic. If in doubt, err on the side of choosing HVSA as part of your personal protective equipment (PPE).

Call (717) 747-1391 For D.E. Gemmill High Vis Clothing
Understanding High-Visibility Clothing Requirements
Before putting on a reflective vest, you must understand the HVSA requirements for the job you need to do. The governing body that regulates the apparel you choose will depend on who you work for. For example, if you have a construction job for a state highway, you need to hold to state and OSHA standards for high visibility clothing. Find out more about these regulations and why they are so crucial for keeping you safe on the job.
1. What Laws and Standards Govern High-Visibility Requirements
Hi-vis clothing regulations fall under several jurisdictions. You should consult the local and state requirements to see if they have additional rules that do not fall under OSHA's guidelines. Adhering to state rules is especially important if you have a contract with a state's Department of Transportation (DOT) or other entities. Failing to adhere to Pennsylvania DOT rules, for example, could exclude you from future contracts. For work along national highways, look to the FHWA regulations that control the type of safety apparel all workers must wear, including construction workers and emergency responders.

Standards and regulations that apply nationally include the following:
ANSI/ISEA 107: This regulation governs the characteristics of HVSA, including color and performance class.
ANSI A10: This guideline applies specifically to safety apparel for highway work zones, including the requirements that flaggers must wear class 2 and night workers must wear class 3 HVSA.  
FHWA: The Federal Highway Administration requires that those working in the right-of-way of traffic must wear performance class 2 or 3 HVSA.
OSHA: In an interpretation of OSHA standards, the administration clarified the need for HVSA for all workers in work zones due to their constant exposure to traffic.
2. OSHA, ANSI, ISEA: What Are the Differences?
The ISEA is a trade organization for manufacturers of safety gear and personal protective clothing. When creating standards for HVSA, the ISEA collects input from experts, manages the public review process, publishes the finalized version and makes required interpretations on any standards technicalities. The ISEA holds accreditation from ANSI, which is an agency that develops standards.
OSHA is an organization under the United States Department of Labor that sets out guidelines for workplace safety standards. This administration sets and enforces the rules it creates. This government entity uses training, education, outreach and assistance to ensure businesses know the regulations it establishes and complies with them.

It's helpful to understand the roles of these agencies, as it prevents confusion when looking up requirements for high visibility clothing. When outlining their standards, OSHA references the FHWA guidelines, which mention ANSI/ISEA regulations.  
3. What Are the Requirements Set Forth by OSHA?
OSHA's requirements for high visibility clothing for flaggers and others exposed to traffic refer to part 6 of the FHWA's Manual on Uniform Traffic Control Devices (MUTCD). This portion of the Federal Highway Administration (FHWA) standards includes information about who must wear high visibility safety gear and the type. All workers who are either in the right-of-way or exposed to vehicular or construction equipment traffic must have on HVSA as part of their PPE. The HVSA they wear must adhere to ANSI/ISEA 107 standards and labeled as performance class 2 or 3.
OSHA also requires those under the General Duty Clause to wear high visibility clothing if they work where they could have a vehicle hit them.
To ensure your HVSA meets OSHA requirements, look for the ANSI/ISEA notation on the label, which will also indicate the performance class of the garment. If your clothing does not have this information on the tag, it may not meet OSHA regulations.
Even if your clothing meets the standards from ANSI/ISEA, over time, it may lose its compliance. Check your high visibility safety gear for signs of wear. Tears, faded coloring and dirt all make the apparel no longer compliant with safety standards. Discard these garments and replace them with new ones.
4. What Colors Are Considered High Visibility?
High visibility colors show up well in all lighting conditions. The reflective tape should also have bright coloring to outline the person. Combinations of tape and background color of HVSA can be fluorescent yellow-green and fluorescent orange-red. This combination rule means, for example, that the material can be neon green, and the tape can have orange stripes. The reverse also applies — tape with green or yellow trim on an orange or red background fabric works as well. Some states have different color schemes they require for various performance classes.

For example, PennDOT issues high visibility clothing for all workers in construction zones along highways. The coloring of these vests is yellow-green with orange-red trim on the reflective tape. Garments without sleeves are class 2, and those with sleeves fall under class 3. Hardhats also have specific colors. Operator instructors wear blue, and managers have white. All other employees on site should use yellow-green hardhats. These colors help with visibility among workers.
5. What Are the Classes of High-Visibility Safety Apparel?
High visibility clothing classes 1, 2 and 3 all have different amounts of reflective space and have different uses. The lowest level, performance class 1, has the smallest reflective area, and you cannot wear this class when working in a right-of-way on a federal highway. Find out more about the specifics of each classification and when you need to wear them below.
6. What Are Class 1 Hi-Vis Clothing Requirements?
The least reflective type of clothing is class 1. This type of clothing does not work well in situations close to traffic. The wearer blends into the construction background instead of standing out from it. To be performance class 1, a high visibility garment must have the following minimums per ANSI/ISEA standards:
The background material is at least 217 square inches.
Combined performance material or reflective tape, when used with a bright background, should cover at least 155 square inches.
Combined performance material without a bright background must cover at least 310 square inches.

Those who work along roadways should not wear this classification of HVSA. Those who can wear this class include those who have a separation between themselves and traffic and can continuously watch for cars. Speeds of nearby traffic cannot exceed 25 miles per hour.
Workers in warehouses, parking lots and sidewalks are best suited to using class 1 high visibility gear.
7. What Are Class 2 Hi-Vis Clothing Requirements?
Those who work along highways and roadways must wear either class 2 or 3 HVSA. Compared to class 1, class 2 clothing covers a larger portion of the torso. The requirements for area of bright background material and reflective tape include:
The background material must equal at least 755 square inches.
Combined performance material or reflective tape with the background must cover a minimum of 201 square inches.
Those who wear this type of high visibility clothing may work near traffic during the day, but there should be a barrier between the workers and the vehicles. Additionally, nearby traffic must slow down below the typical speed limit, though it can travel faster than 25 mph. 
Places with inclement weather during the day, sites with complex backgrounds and locations where the workers cannot give their full attention to traffic are other instances when class 2 clothing is better than class 1.
8. What Are Class 3 Hi-Vis Clothing Requirements?
The most visible classification of clothing is performance class 3. Situations that require this class of HVSA include places where workers may come close to traffic or pedestrians. The garment must make the wearer visible, regardless of the way they stand, from at least 1,280 feet away. Instances that require this level include when workers are near high-speed traffic or in low-visibility conditions.
Other instances when class 3 is a better choice than level 2 HVSA are in areas with traffic lane changes, no physical barrier between workers and traffic, nighttime operations, highly congested areas and high-crash locations.  
The requirements for class 3 clothing include the following:
The background must cover at least 1,240 square inches.
Reflective tape or combined performance material used with the background must cover at least 310 square inches.
High visibility clothing must have either trousers or sleeves.
If you have ANSI class 2 shirts or an ANSI class 3 vest, you can combine it with a class E set trousers or shorts to make a class 3 ensemble.
9. Other Classes
You may see other classes of HVSA listed in ANSI/ISEA 107-2015. These classes use letters instead of numbers to indicate the types of jobs you wear them with. These other classes include the following:
Type O: This type designates off-road only clothing that compares to class 1. You can only wear this class in areas without traffic hazards.
Type P: Type P clothing is for public safety workers. This clothing type corresponds to class 2 or 3 because you can wear type P when exposed to traffic hazards.
Type R: For use on roadways, type R HVSA is for construction workers in work zones or traffic right-of-ways.
Type E: Type E clothing applies to trousers or shorts. You can combine type E items with a class 2 or 3 top to create a class 3 outfit. Whether pants or shorts, the material must cover at least 465 square inches, and the reflective tape or combined performance material needs to measure at least 108 square inches.
Best Safety Apparel for Every Industry
Though construction workers, public safety workers, roadway traffic controllers and parking lot attendants all work near vehicular traffic, they each have different visibility requirements for their HVSA. Once you understand the differences between these requirements, you can better appreciate how high visibility safety gear keeps you safe doing whatever job you have.

1. Construction Industry Apparel
The construction industry has several requirements for HVSA due to the hazardous nature of working around both heavy equipment and moving traffic. Construction workers have performance class 2 and 3 HVSA to wear for their work. Class 1 does not offer the necessary visibility, and you cannot wear it for construction work. Whether you work at night or during the day in addition to your proximity to traffic determines the class you must wear.
Those who work directly in the lanes of traffic, such as flaggers and those who set out traffic cones, should wear class 3 gear. All workers who work after dark should also wear this performance class of HVSA.
Daytime operations require class 2 clothing when working along roadways. If the roads have slower speed limits for the work zone and barriers sit between you and the traffic, you can safely wear class 2 HVSA.
If you work for PennDOT on highway projects, flaggers must wear class 3 tops and class E bottoms. As per Pennsylvania high visibility requirements, everyone else working during the day may wear class 2 HVSA.
PennDOT has specific HVSA it issues to its workers. Those wearing class 2 clothing wear a vest without sleeves, while those who must wear class 3 garments have sleeves. You must keep the garment closed on the sides to maximize the visible area of the background material. In the case of inclement weather or nighttime operations, all workers must wear class 3 rain jackets and class E rain pants.
OSHA nighttime safety vest requirements include wearing class 3 HVSA, but choosing garments that have reflective sleeves may make you easier to see at night.
When working in a construction zone on a job that requires either class 2 or 3 high visibility, you must have at least a top that fulfills the requirements for class 2 or 3 high visibility garments. For class 3, you may choose a class 2 top and class E pants to increase the surface area covered by the fluorescent material. Otherwise, wear a class 3 top.
While reflective clothing is essential when on the job, you still must consider everything else you will wear, too. Your shoes should protect your feet from crushing injuries. A hardhat keeps your head safe from falling debris. Under your vest, wear a comfortable shirt to match the weather conditions. PennDOT requires a sleeved shirt under all safety vests, regardless of class of the top.
2. Public Safety Apparel
First responders and other public safety workers typically must wear class 3 apparel or HVSA made for their job. Included in this group are people in law enforcement, firefighters and EMS workers. Specific public safety apparel regulations fall under ANSI/ISEA 207-2006. This rule ensures that the HVSA you wear keeps you visible night or day. The public safety gear has optional colors to distinguish various responders and access to utility belts and pockets.

To qualify as approved public safety high visibility apparel, clothing must have at least 450 square inches of background coloring and 201 square inches of retroreflective tape or combined performance material. Class 3 HVSA meets these standards if you do not have specific public safety clothing.
Colors for the trim and an identification panel indicate the responder wearing the clothing. EMS workers have green trim. Law enforcement officers have blue coloring, and firefighters have red on their safety apparel.
Type P public safety apparel falls under class 2 or 3 HVSA because these people work either in or next to active lanes of traffic without established barriers. Nighttime emergency responders especially should wear class 3 gear or public safety apparel.
3. Roadway Traffic Control
OSHA roadside safety guidelines for HVSA follow those set out by the Federal Highway Administration's MUTCD, which uses the various ANSI HVSA classes. Type R explicitly has use for those who work along roadsides. Clothing of type R is either class 2 or 3. The higher the coverage of the background material and retroreflective tape, the higher the class. If you wear type R, check which class it falls under, especially if you must wear class 3, which has a larger reflective surface and more background coloring.
Those who fall into this category include school crossing guards, toll gate operators, airport ground crews and those directing traffic. Because these people are involved in work near moving lanes of traffic, they need either class 2 or 3.
4. Daytime Sidewalk or Parking Area Work
For those working during the day along sidewalks or in parking areas with low-speed limits, class 1 HVSA will suffice. Another classification you may see HVSA for this group is Type O, which is the designation for off-road use only. This type of HVSA has the equivalency of class 1.

5. Warehouse Work
For those working in warehouses, there is a struck-by hazard from forklifts and other vehicles. OSHA warehouse safety vest requirements for warehouse workers may fall under the general duty clause, which requires employers to provide workers a site free from hazards that could result in severe injury or death.  
Since warehouses tend to have even lighting and vehicles don't exceed 25 mph, workers in these places only need class 1 HVSA. Warehouse workers typically don't have to worry about blending in with the background when wearing class 1 HVSA because the material of the garments stands out from the items and equipment in the facility.
How to Select the Right Safety and Hi-Vis Apparel
When choosing the safety apparel to use for a particular job, you need to answer several questions to ensure you get the right class of HVSA for what you need to do. You also need to verify that the clothing you get meets the ANSI/ISEA standards. Choosing the right HVSA is only part of the work. You must know the right way to care for your garments as well to ensure you get the longest life from them.

1. Things to Consider When Choosing Hi-Vis Apparel
To choose the right high visibility clothing, you must know the requirements for your work. If you have a doubt, choose a more visible class of clothing than you think you need. For all construction work, you will need either class 2 or 3 high visibility safety apparel. Do not even consider getting class 1 for this type of work because this class does not offer enough visibility to help drivers see you on the job site. Only a select few jobs can safely wear class 1 – parking lot attendants, warehouse workers and those on sidewalks. Generally, a person selected by the employer to hold responsibility for worker safety chooses the class of HVSA for specific jobs on the site.
To determine if you need class 2 or 3 clothing, ask yourself the following questions:
Are you doing a project for the state? If so, federal guidelines serve as the minimum, and state requirements will take precedence over them.
Will you work during the day or at night? All nighttime work requires class 3 apparel. Daytime operations may need class 2 or 3, depending on your job.
Will you work as a flagger? Flaggers must wear class 3 garments, and if you work for PennDOT, you will need both a class 3 top and class E pants.
Do you have HVSA for inclement weather? Not only do cloudy skies and rain decrease visibility, but they also may require protective rain gear with higher visibility. If you work for PennDOT, you have the option of wearing a class 3 rain jacket and class E pants.
What is the traffic speed around the job site? If vehicles do not slow down, you will need class 3 gear. For construction zones with slower speeds, though, you might be able to wear class 2 if you stay out of the right of way.
Is there a barrier between you and traffic? If not, you will need class 3 clothing. However, if there is an obstacle between you and the traffic, you can wear class 2 HVSA.
Does the clothing have the ANSI/ISEA compliant mark on the label? If it does not, it may not meet the visibility requirements for your work.
Do you need fire-resistant clothing that also offers high visibility? You can find information on the fire resistance of the garment on the label.

2. How to Care for Your HVSA
To keep your high visibility clothing protecting you adequately, you must care for it properly. Look at the garment tag for care instructions. Follow these guidelines every time you wash your clothes. Keep your HVSA clean because dirt can block out the brightness of the background material or prevent the reflective tape from highlighting you.
Also, do not store the HVSA in direct sunlight. If you keep your safety vest in your vehicle, store it in the trunk instead of on a seat. Sunlight exposure can cause the coloring to fade.
Keep your clothing away from cutting hazards and replace it if it becomes cut, burned or otherwise damaged. Excessive dirt or stains that block portions of the reflective trim or background also necessitate replacing the clothing.
3. How Long Does High Visibility Apparel Last?
High visibility clothing, like other work apparel, won't last forever. In fact, the more exposure to the elements the clothing experiences, the shorter a life it will have.
Rather than relying on a specific time to replace your HVSA, conduct visual inspections every time you use it. If the garments have faded or do not reflect as needed, you must exchange them for new ones. For PennDOT, the District Safety Coordinator should inspect HVSA at least once a year.
Benefits of Purchasing Safety Apparel & Hi-Visibility Clothing from D.E. Gemmill, Inc.
For safety gear that complies with OSHA regulations, see our online store or shop in person at D.E. Gemmill, Inc. Purchasing from us gives you an edge in sourcing quality high visibility clothing, whether you have one employee or dozens of workers.
Since 1986, we have provided our customers with high-quality products and expert service. Our employees understand the safety gear requirements for visibility, and you can ask them about the type of clothing you need for your job. You can feel assured that you will get the correct class of HVSA when you visit us at our York, PA store. 
In addition to expert service, we give you numerous ways to shop. You can visit our store in person, or have us come to you with the mobile shop we call Safety on Site. If you need to make purchases outside our store hours or from anywhere in the country, check out our online store. Our fast shipping will get the gear to your site as quickly as possible. 
When you shop with us, you will see a large selection of ANSI-compliant apparel for public safety workers, construction workers and warehouse employees. Our diverse range of products includes high visibility clothing as well as other safety gear, such as eye protection and workboots. 
Discover some of the leading benefits of choosing us as your safety gear supplier below.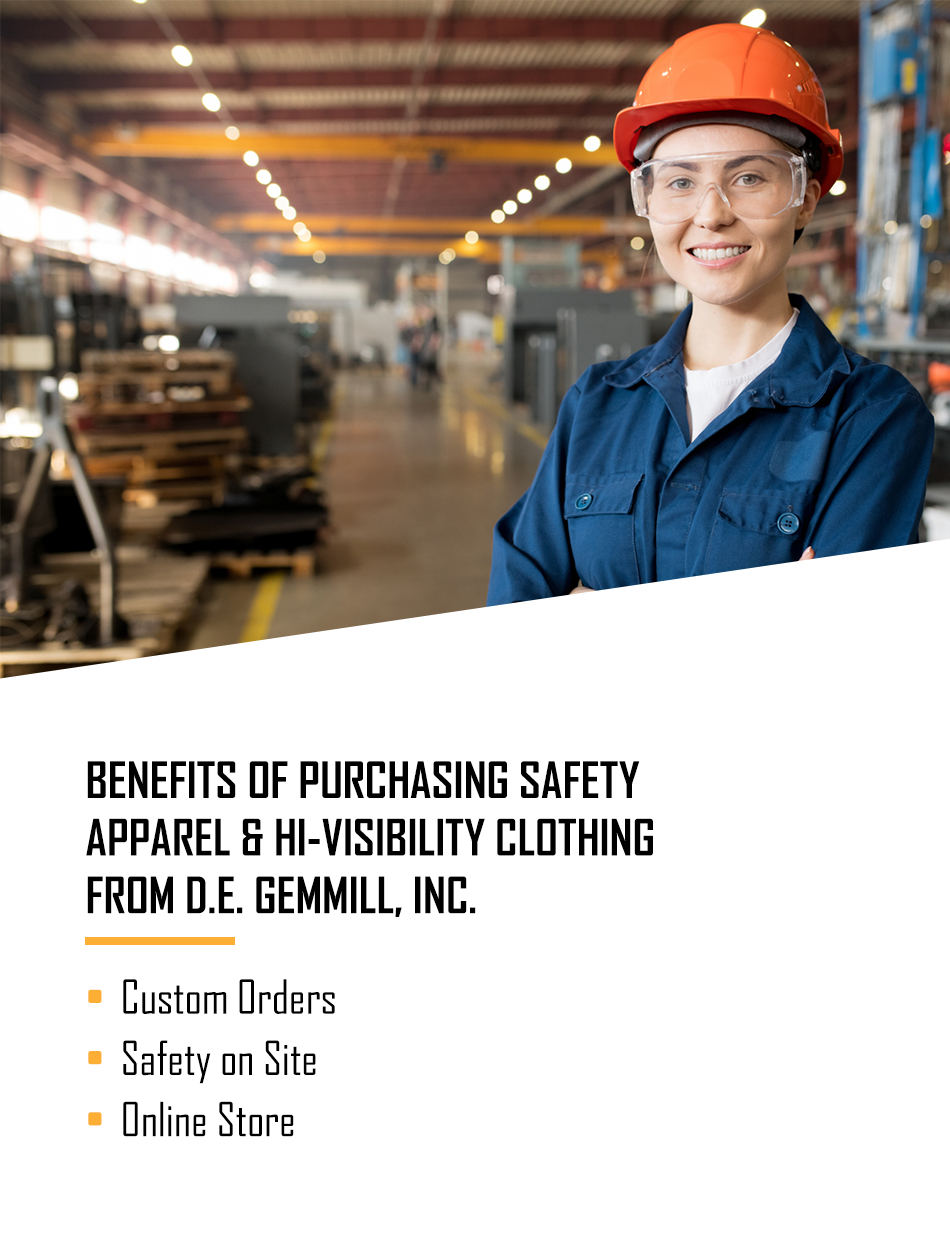 1. Custom Orders
If your company needs a particular configuration of safety gear, let us know. We can create customized orders based on the information you provide to us. With multiple options for background and trim colors for HVSA, let us know what you want on your crews' safety gear.
For instance, if you are a first responder, let us know which type and how we can customize your Type P HVSA for public safety use. Your job will determine the color and any optional features of the garments.
2. Safety on Site
Today, you can get everything delivered, from your construction equipment to signs, but delivery does not necessarily allow your workers to try on HVSA or to choose their preferred manufacturers. We have a solution to enable your workers access to multiple products from our store without requiring them to make a trip to our York, PA, store.
Instead, you can have us come to you. If your work location is within 150 miles of our York, PA store, you can schedule our Safety on Site (SOS) vehicle to visit your job site. We pack our mobile truck with all the safety equipment your crews need so they can shop for the perfect pieces of HVSA. Your workers can pick out the options that fit them and bear the ANSI compliance label. We have 20 manufacturers of HVSA and even stock work boots.
To ensure everyone on your crew has the HVSA to stay compliant with OSHA standards, bring our selection to your workers with our SOS vehicle.
3. Online Store
You can also shop from the convenience of anywhere at any time through our online store. We have safety gear that includes hi-vis tops and bottoms in addition to accessories that make you more visible. Whether you need class 1, 2 or 3 HVSA, you can find what you need in our online store.

Visit Us or Browse Our Selection Online  
Check out our online store to shop for high visibility safety apparel from anywhere. If you work in Pennsylvania, Maryland or Delaware, visit us at our store in York, Pennsylvania. You can see our inventory and get the safety apparel you need the same day. Our in-store associates can answer your questions about HVSA and the type you need for a particular job. If you need garments to work on a construction project, our experts know what HVSA meets Pennsylvania construction safety apparel requirements.
To find our in-person store, to order customized products or for more information about us, contact us online at D.E. Gemmill, Inc.