Are you Hiring a Professional & Reputable Pavement Marking & Maintenance Company?
What is your criteria for a pavement marking and maintenance firm? Are you shopping for the cheapest price or a professional who will deliver a product that meets the specifications and provides a job that will last the duration of the manufacturer's life expectancy? The cheapest price may not provide you with the product or service you are expecting. Remember the old adage, if it seems to be too good to be true, it probably is.
Professionals Save You Time and Expand the Value of your Investment
                What is a professional?
A reliable company that follows specifications set forth by the manufacturer of the materials they utilize for your project.
A firm that will be there over time and you can call on repeatedly over many years to service you the customer. How long has the firm been in business and what do others say about them through word of mouth?  
If a mistake is made or something is defective a professional contractor will be there to correct it and not run away from the problem. Remember no one is perfect, mistakes and defects do occur. It is not the contractor that is there when everything is going well that matters, it is the contractor that is there when things go off course, that displays their character.
Someone that will be honest with you. If the paved area is beyond repair will they tell you the truth, that you may be wasting your money, or will they simply take the job so they can cash your check. I believe this is called integrity.
Do they have insurance, business cards, and physical office location? Do they act and present themselves as a professional or do they look like they just came from a weekend at the beach? When you call the place of business do they have real person answer or do you get a professional message on their voice mail? These are simple but good indicators of a professional firm.
Will they be able to provide you with referrals, have you checked them out with the better business association, can they provide you with bank references?
Do they employ full time employees or do they use who ever is available? Professionals have their own staff and employees with limited subcontracting work.
Do they offer you a written contract or proposal?
Expanding The Value of Your Investment
Proper application rates of material are giving you a value for the money you are spending. A manufacturer will base the life expectancy of their product on the proper application rates of materials.

If someone reduces the material application rate, they are cheating you and you are receiving subpar work.
It will also require you to spend more money in a shorter period of time to redo what has been done.
So if pavement markings are expected to last three years in a parking lot and you hire a subpar contractor who reduces the application rate, you may only get a year and a half of life out of the pavement markings.  So if the contractor who's quote was 30% higher initially, and would have lasted three years is still cheaper than you paying the cheapest contractor to perform the work twice in a three year time frame. What did you save, you almost doubled your investment for subpar work.
Pavement Marking and Maintenance
This is a Professional Industry
Knowledge and understanding of materials, equipment and changing industry standards are required to provide our clients with the best end product
D.E. Gemmill Inc. has been serving the pavement marking and maintenance industry since 1986, longevity has proven our value to clients, because many competitors have disappeared over the years.
We bring integrity, knowledge, skilled personnel and experience along with our reputation which is the basis for our business longevity
D.E. Gemmill is a fully insured company, an approved PennDOT and Maryland State Highway Administration State Highway Contractor, and a certified Sign manufacturer for PA & MD. Hiring a industry professional such as D.E. Gemmill can make all the difference in cost, appearance, and longevity of you parking lot or roadway. Preserve the safety and compliance of your parking lot and allow us to help you follow a preservation maintenance schedule. 
This line painting contractor clearly did not take pride in the overall presence of their line painting work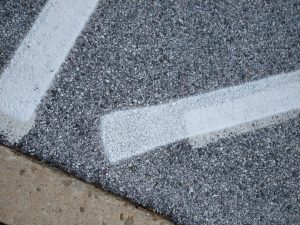 This contractor did not apply the material at an sufficient application rate