How to Ensure Compliance with PA Act 44 Physical Safety

Safety and security should be of the utmost importance to the world of education. Thus, in the wake of recent threats to schools across the country, Pennsylvania has implemented Act 44 as a response.
Act 44, which became effective immediately after Governor Tom Wolf signed it into law on June 22, 2018, outlines provisions regarding school safety and security. The act affects PA schools and all of their inhabitants, the Pennsylvania Commission on Crime and Delinquency (PCCD), the Pennsylvania Department of Education, Pennsylvania State Police and the Attorney General's Office. Some of its main goals include:
Mandating the appointment of School Safety and Security Coordinators
Requiring school employees to receive school safety training
Expanding the Pennsylvania State Police's Risk and Vulnerability Assessment Team (RVAT) unit
Setting clear guidelines for school police, resource officers and security guards
Creating the Safe2Say program
Forming a School Safety and Security Committee within PCCD
The act is a crucial step toward school safety and security compliance, which is accomplished primarily through the School Safety and Security Committee.
What Is the PA Act 44 School Safety and Security Committee?
One of the most critical aspects of PA Act 44 was the formation of the School Safety and Security Committee. The committee had to create the criteria to be used for conducting school safety and security evaluations by September 30, 2018. These criteria had to include a physical assessment, a policy and training assessment and a student assistance and behavioral health support assessment.
Through these three evaluations, schools can ensure their practices are keeping their students, faculty and staff safe to the best of their ability. So, what exactly do they require?
1. Physical Assessment
The physical assessment must be performed during the calendar school year during normal school hours while school is in session. This particular evaluation focuses on the school's structural facilities and surrounding property. It requires reviewing the school's:
Existing safety and security plan
Existing crisis response and mitigation plans
Crime prevention policy or practices, including its environmental design
Cooperative agreements
Evaluators should also talk with the school's staff, as well as local law enforcement agencies responsible for protecting and securing the school.
2. Policy and Training Assessment
The policy and training assessment requires evaluating the school's policies and practices, such as:
Policies related to student safety, security and management issues
Code of conduct for students
Safety and security training practices
Communications practices and available technology and tools
During this portion of the assessment, the evaluator should also provide the school's employees with recommendations for the best school safety practices and security training procedures.
3. Student Assistance and Behavioral Health Support Assessment
This evaluation focuses on reviewing a school's overall climate and environment, including things like:
Student resources — for example, whether the school has programs in place to help students and whether behavioral health professionals are available to assist with their needs
Comments and recommendations by behavioral and physical health professionals
The committee adopted the criteria above as a guideline for schools on September 26, 2018. They are responsible for reviewing the requirements at least once every three years and can make changes as needed.
It's important to note these criteria are suggestions to schools rather than hard requirements. Since schools are all different, educational providers can use the guidelines as they see fit to create a safer learning environment for students, staff and faculty.
Other Committee Responsibilities

In addition to creating the criteria for assessments, the School Safety and Security Committee are also responsible for creating the requirements used to find an assessor. The best person or vendor with knowledge or experience in school safety and security who meets the criteria would then carry out the assessment. The committee had until October 31, 2018, to establish them.
Schools with limited resources can choose to perform a safety and security assessment internally. It is recommended, though, for them to use external assessors or qualified professionals outside the school to assist with the process.
As another one of their duties outlined in Act 44, the committee must develop and distribute a survey that measures how prepared schools are in terms of security. Schools had until November 30, 2018, to finish the survey and notify the committee of any safety or security assessment completed within the last three years. However, survey and assessment results do not apply to the Right-to-Know Law as they are considered confidential.
Act 44 also created the School Safety and Security Grant Program. The School Safety and Security Committee is responsible for distributing the grant funding — a total of $60 million for the 2018-2019 school year. About $52.5 million will be put toward school safety and security grants while the other $7.5 million will go toward grants for violence-reducing programs. Any eligible school entity may apply for grants, and the committee ultimately approves them.
How Are Physical Safety and Security Assessed in Act 44?
Act 44's specific criteria for schools' physical assessments work to keep students and faculty protected in the school building. The act breaks these criteria into two main parts — reviewing preexisting physical and security documentation and evaluating and assessing any vulnerabilities of a school building and the area surrounding it. The assessment must be conducted during the school year while school is in session.
1. Reviewing Existing Physical and Security Documentation

Every school has physical and security documents — Pennsylvania requires all school districts to have a comprehensive disaster response and emergency preparedness plan by law. This plan, also known as an "all-hazard plan," must be developed with the Pennsylvania Emergency Management Agency (PEMA) and the local emergency management agency in mind. Often, the all-hazard plan will also contain schools' entire plan for school safety and security, as well as crisis mitigation. However, some schools might have other safety and security procedures that require assessment.
Additionally, the school administrator or appointed school safety and security coordinator must review the all-hazards plan before they submit it to the local emergency management agency each year. Each police department and each local fire department that has jurisdiction over the geographic location of the school must also receive a copy.
The plan must meet the needs of special-needs students and staff to ensure everyone is prepared to receive adequate, individualized care during a crisis. Staff must keep a copy of the plan in a specific place available to administrators or other personnel at any given time. Each year, administrators should notify PEMA of any changes to the plan and update its comprehensive reunification policy. By law, school entities are also required to execute a Memorandum of Understanding with every police department that has jurisdiction over them every two years.
2. Assessing Physical Vulnerabilities
A physical vulnerability is any area that can be made more secure to avoid exploitation by an assailant, according to the School Safety and Security Assessment Criteria. When completing the vulnerability assessment at a school or entity, the assessor must discuss these vulnerabilities with the school's employees as well as its primary law enforcement agencies.
This part of the assessment also analyzes the school's crime prevention policy or practices, including its environmental design. During this practice, the assessor will look at a school's general exterior and interior spaces as well as other physical considerations.
Additionally, Act 44 required the Pennsylvania State Police (PSP) to form three Risk and Vulnerability Assessment Teams, which operate in three different geographic locations previously chosen by the committee and PSP. All of the police on each team are certified Physical Security Professionals through ASIS International. They will conduct free school safety and security assessments systematically to schools within their team's region. Schools with high market value-income aid ratios have priority.
The state troopers on the Risk and Vulnerability Assessment Teams also go through specific assessment procedure training related to physical security, explosive effects on structural design, threat analysis and practical target hardening techniques. Every year, each team must report to the committee to let them know what schools they assessed and their security and safety needs.
How to Improve Exterior School Safety for PA Act 44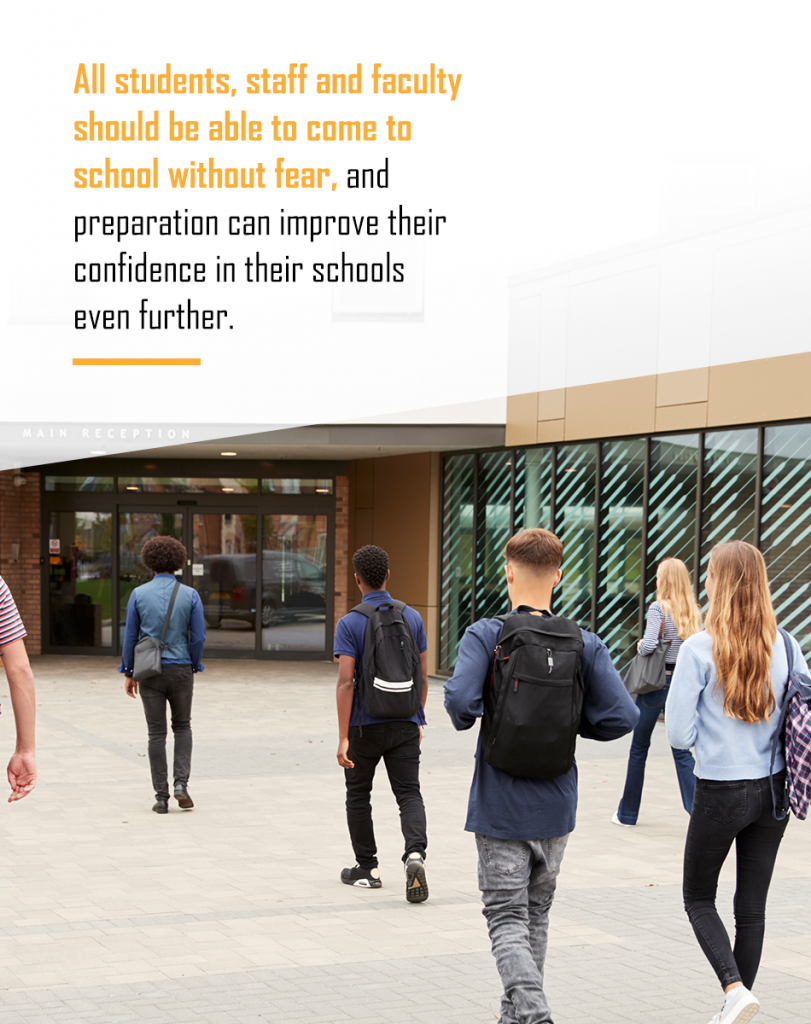 All students, staff and faculty should be able to come to school without fear, and preparation can improve their confidence in their schools even further. To minimize vulnerabilities, it's important to ensure your school's exterior is safe from any potential aggressors. Keep these general rules in mind to better ensure ideal physical assessment results.
For General exterior spaces:
Ensure emergency vehicles have easy access to the facility.
Install shatterproof glass in all exterior doors, sidelights and first-floor windows lower than 4 feet high.
Regularly trim any tall landscaping directly around the school to avoid blocking any windows.
Ensure all portable classroom doors are locked and rooms are hooked up to the school's central communication system.
Make sure lighting fixtures function correctly and are in good physical condition.
Number any exterior doorways that give access to the school sequentially on the outside. Numbering should start with the main entrance door and then go clockwise. Mark these numbers on floor plans for first responders, and label them clearly on the outside of the door so that they are visible from the street.
Move trashcans at least 30 feet away from the building, and remove them from areas where students gather.
Set up surveillance on exterior doorways that give access to the building.
Install bollards to protect the main entrances of the building. Protecting the hundreds of students walking in and out of the building is essential — especially during arrival and dismissal hours. Bollards protect people from being hurt by traffic and help schools comply with Act 44.
For exterior building access:
Shut any doors that are propped open, and remove any objects that could potentially be used to prop the door.
Check all exterior doors at the beginning of the day to make sure they are closed, locked and latched. Make sure these doors stay locked throughout the school day.
Assign staff to monitor points of entry and exit during arrival and dismissal.
Use signs to direct any visitors to the main office, and install "no trespassing" signs to deter them from places around the school not open to general access.
Make sure all doors have either a window or a peephole so that you can see who is on the other side.
Remove or replace double-looped door handles to avoid someone chaining the doors and preventing emergency exit.
For exterior transportation:
Restrict bus loading and unloading zones for general traffic. Parent drop-off and pickup areas should also be somewhere separate.
Install bollards around all drop-off and pickup areas to protect all students, staff and faculty from vehicles coming in and out.
Separate and clearly mark the different parking areas for staff, students and visitors with signs. Deter vehicles that may contain explosives or other hazardous materials by keeping parking areas as far away from the building as possible.
Monitor parking lots with surveillance, staff, a school resource officer or other security if possible.
For the playground and other outdoor recreational areas:
Keep play yards and other recreational areas away from streets, driveways and parking lots.
Enclose the area with fencing, bollards or some other protective barrier if it is close to a driveway or parking area.
Monitor playground or recreational areas with staff when in use. Staff should have a portable radio or some other device to communicate with personnel inside the building.
Some other general policies related to exterior security include:
Prohibit propping the door open.
Develop a maintenance schedule for reporting any broken lights or other exterior issues.
Don't allow students to walk to their cars alone during the day.
Record procedures on what to do in the case of an unauthorized visitor.
Write down and enforce procedures regarding the school's established parking permit system.
Establish and communicate requirements for training administrators on how to shut down critical building systems during an emergency.
Keeping these things in mind will certainly help your school boost its exterior security. Further, writing down criteria-based safety and security policies can ensure your school is protecting students, staff and faculty to the best of its ability.
D.E. Gemmill Can Help PA Schools Get in Compliance
Since school is a place for students to learn, the last thing they should have to is worry about safety — especially early in the morning or right before going home. However, main entrances and drop-off and pickup zones at schools can become potential hotspots for pedestrian danger. From January 1, 2018, to June 30, 2018, 90 pedestrians were killed in Pennsylvania alone. While not all of these deaths necessarily occurred at school, it's still vital to recognize the dangers associated with simply crossing the street, no matter where you are.
A 2016 study released by Safe Kids Worldwide examined 39,000 middle and high school students and 56,000 drivers in school zones in the U.S. The study revealed one in three drivers exhibited unsafe drop-off or pickup behavior. Specifically, more than one in 10 drivers were distracted with mobile devices as they arrived or left the drop-off or pickup zones. For schools in rural areas, the statistics are even worse. In smaller areas that were less densely populated, drivers were more likely to exhibit distracted behavior around schools.
In response to these and other potential threats against schools, Pennsylvania's Act 44 is ready to go the extra lengths to keep facilities secure from any potential vulnerability — and so is D.E. Gemmill. We offer numerous options for bollards and safety barriers ready to meet any of your traffic control needs, protect your pedestrians and get you in compliance.
From protective and security bollards to safety bollards and barriers — both great options for schools — we can help you find exactly what you're looking for. Our retail store in York, PA, is prepared to help schools all across the state move one step closer to safety.
Contact D.E. Gemmill to Meet Act 44 Safety Requirements

With the implementation of Pennsylvania's Act 44, physical safety requirements in schools are more important than ever. Are you ready to take the next step toward school safety? Prepare your school for physical assessment and meet Act 44 safety requirements with safety barriers and protective bollards from D.E. Gemmill.
Whether you're looking for safety barriers to help redirect traffic or round steel pipe bollards to shield pedestrians from motor vehicle damage, you'll find a product that fulfills all of your safety needs. Don't wait — contact D.E. Gemmill for assistance on meeting Act 44 safety requirements, and get a free custom quote today.