Brand Awareness Through Customized Workwear
Spread Brand Awareness Through Customized Workwear
Brand awareness starts with creating a connection between your customer and your company. Rather than just understanding about what your brand does and what you stand for, associating your business with your logo, brand awareness also helps potential customers understand if your product or service is right for them. Custom imprinted workwear has many benefits and it's a big reason why so many companies choose to customize their hi vis workwear and safety gear with their logo or their text.
Workwear can be more than just keeping your employees visible, safe and comfortable throughout the workday. Being recognized and differentiating your workers with customization and personalization can help promote your business and build your brand awareness.
D.E. Gemmill's Traffic Control and Safety Products Division can help you communicate your brand or companies' vision through personalization and customization of your safety apparel and safety gear. Simply by adding your logo or company graphics to your hard hats, ball caps, safety vests, hi vis shirts and jackets you are investing in building a stronger commitment and loyalty to customers through your brand.
Top 3 Reasons to Consider Customization of Workwear
Low-Cost Advertising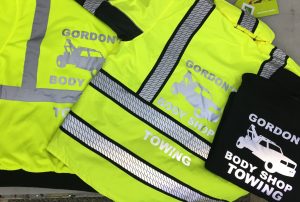 Simply putting your logo or company graphic on your employee's workwear is a highly effective form of lost cost advertising. While on the job or even while stopping at your local gas station for gas or coffee they are constantly displaying your brand on their work shirts and creating a lasting mental picture of your company. The more people are exposed to your logo or company graphic, the easier it will be for the local public to remember or associate your name to your line of business. Who knows they may even call you up or look you up to know more about business or consider you for their next project.
Employee Recognition or Differentiation on the Job Site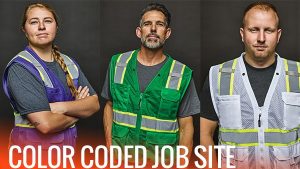 Many of today's construction sites have a multitude of contractors whom all perform different lines of duties on the jobsite. It can be hard to differentiate the various contractors and subcontractors when they may be all wearing hi visibility workwear on the job site as a requirement. We want to help your business be recognized and by customization of your workwear you can help your business and employees stand out. To make differentiation even easier you may also want to consider different colored vests, in which can also help identify your employees' different responsibilities on the site.
Uniformity and Commitment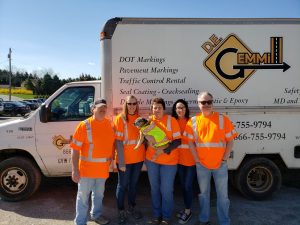 Some companies may be looking at your company's entire package as whole, and with that it could mean your employees workwear. Your companies professional image including the workwear worn by your employees may make your company look more presentable to the contractors or companies looking to hire you for your line of work. The term "Dress to Impress" can actually apply to the construction industry and other blue-collar industries alike. By demonstrating your commitment of supplying your employees with workwear or uniforms you are setting yourselves apart and demonstrating your commitment to quality and standards. The distinctive impression that custom or personized workwear creates can also be appeasing to potential hire candidates and give your employees a sense of pride for representing your business while they themselves are wearing and supporting your company on the job.  
Contact a member of our Traffic Control and Safety Product Division team to discuss your options or ideas when it come to the personalization and customization of your workwear. Purchase your custom or personalized workwear at D.E. Gemmill, we have various options available to discuss and look forward to opportunity to assist you call us today at 717-747-1391.